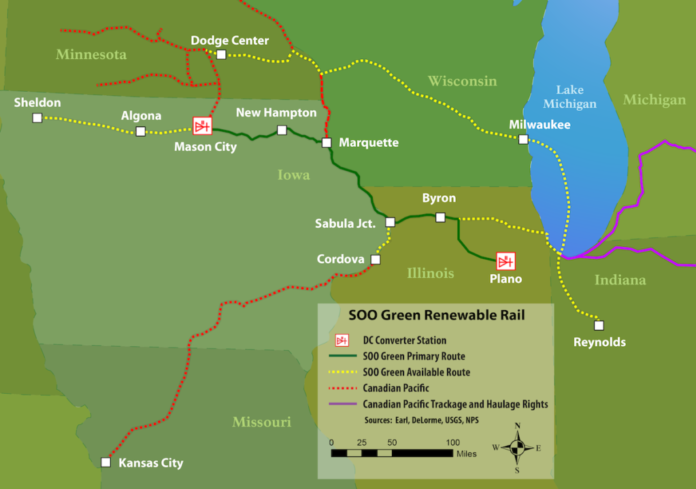 Direct Connect Development Co. (DC DevCo) has announced the SOO Green Renewable Rail project, a proposed transmission line that would transport wind and solar energy underground from Mason City, Iowa, to the Chicago area in Plano, Ill.
SOO Green is a 2,100 MW, 525 kV high-voltage direct-current (HVDC) transmission line that would run underground along an existing railroad for 349 miles. The majority of the project's route would be located along rail owned by Canadian Pacific.
SOO Green is designed to serve as a renewable energy hub by connecting two of the largest electric power markets in the U.S.: MISO and PJM. This would create a convenient location for a large number of renewable energy buyers and sellers to enter into standard transactions, the developer explains.
DC DevCo says SOO Green adopts the rail co-location model used in building America's fiber optic system. The project's construction methods would limit impacts to the environment by boring under sensitive habitat, lessening the impact on birds and other endangered species. Building SOO Green underground and using an existing railroad right of way would also limit impacts to neighboring landowners, notes DC DevCo.
"The successful deployment of this HVDC technology along railroads will create a market segment that doesn't exist today, and DC DevCo believes that the SOO Green project will set the standard regarding how transmission lines are developed and constructed in the U.S.," states Trey Ward, DC DevCo's CEO.
Copenhagen Infrastructure Partners, Jingoli Power and Siemens Financial Services are serving as the main investors of the project. Siemens is also responsible for the overall system design, engineering, manufacturing, civil works, installation and commissioning of the HVDC converter stations.
"CIP is pleased to partner with DC DevCo, Jingoli and Siemens on this transformative project that will bring clean energy from the resource-rich Midwest to satisfy the growing demand in Illinois and other eastern markets," says Christian Skakkebaek, senior partner of CIP.
The Clean Grid Alliance, a nonprofit that works to advance renewable energy in the Midwest, is applauding the project proposal.
"The SOO Green Renewable Rail project represents an exciting new project and technology to deliver sought-after renewable energy," states Beth Soholt, the group's executive director. "The project is evidence that the growth of renewables is driving innovation and companies are rising up to meet the demands of the energy marketplace.
"Clean Grid Alliance has worked for over a decade to reform MISO market rules to allow new players and emerging technologies the opportunity to provide value to electric customers," she continues. "The SOO Green Renewable Rail transmission project is uniquely situated geographically to deliver our Midwest renewable energy to customers in the Eastern Interconnect, fulfilling important grid needs and providing clean, renewable energy that continues to be in high demand."