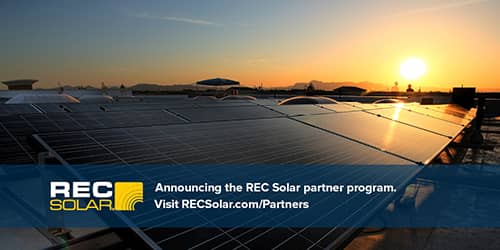 San Luis Obispo, Calif.-based REC Solar has expanded its channel partner program in an effort to accelerate the commercial solar market.
REC says its program provides financing options to a range of solar providers, primarily the small commercial market.
To meet a growing demand for solar from businesses across the country, REC Solar is building a partner network of developers and engineering, procurement and construction (EPC) companies who will have direct access to REC Solar's commercial power purchase agreement.
The company plans to make $225 million in Duke Energy-backed funding available for projects ranging from 50 kW to 2 MW. REC Solar encourages EPCs or developers with a consistent deal flow and installation target of commercial business to apply to join its channel partner network.
"Financing and developing small- to mid-sized commercial projects has been a historically challenging process," says Alan Russo, senior vice president of sales and marketing at REC Solar. "We enable our partners to bring solar to more customers by streamlining the lead development, credit approvals, contracting and financing processes. REC Solar's partner program is uniquely built to unlock a new path to growth for our partners and bring the benefits of solar to more businesses."
An initial version of the program launched with Sungevity earlier this year.
"Joining REC Solar's channel partner program is already paying impressive dividends for Sungevity," explains Dave Dunlap, Sungevity's chief development officer. "Access to timely and reliable low-cost capital for project financing has helped us close many projects, especially smaller commercial deals that have been underserved for far too long. It's a mutually beneficial relationship that's making solar an even better deal for business."