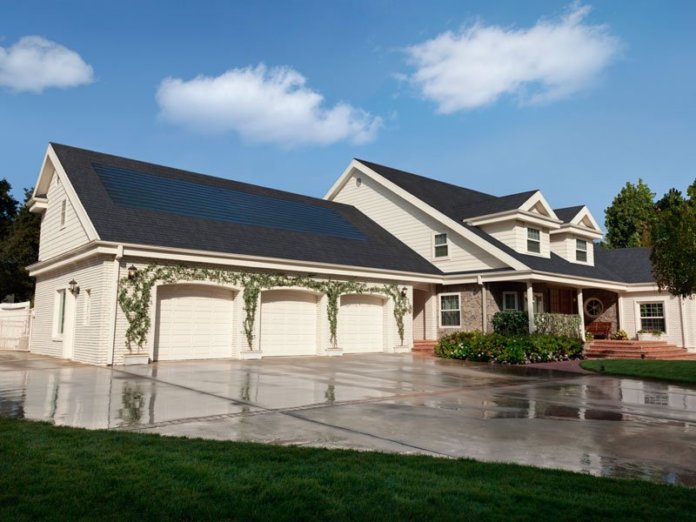 There's no denying that the fledgling building integrated photovoltaics (BIPV) market got a major PR boost after Elon Musk first unveiled plans for Tesla's Solar Roof product. In fact, it appears the rising consumer interest in BIPV may have also helped resurrect The Dow Chemical Co.'s POWERHOUSE solar shingles, which Dow stopped producing last year.
In a press release, Colorado-based solar provider RGS Energy announced that it has entered into an exclusive domestic and international license agreement with The Dow Chemical Co. for the POWERHOUSE solar shingles system. RGS says it will lead all commercial activities for the product, including supply chain management, marketing, sales, installation and warranty.
Starting in 2008, Dow began research and development of solar shingles designed to be integrated directly into a roof. The first- and second-generation products, POWERHOUSE 1.0 and 2.0 solar shingles, were based on CIGS (copper indium gallium selenide) technology and were deployed in more than 1,000 solar installations across 18 states.
To make the product more economic to homeowners, beginning in 2015, Dow began development of POWERHOUSE 3.0 solar shingles, which use traditional silicon solar cells rather than CIGS technology. RGS says this shift significantly reduced the cost while improving panel efficiency. Dow holds numerous patents covering the POWERHOUSE 3.0 solar shingles technology, all of which are now exclusively licensed to RGS.
RGS and Dow anticipate UL product certification during the first quarter of 2018 and are taking pre-orders in advance of final written certification. RGS plans to begin sales and installation of POWERHOUSE 3.0 solar shingles immediately thereafter.
"This enhanced POWERHOUSE 3.0 system comes at an opportune time," says Dennis Lacey, CEO of RGS Energy, in the release. "At an increasing rate, goals and targets are being set for renewable energy. Some localities are mandating solar for new build homes. Customers also increasingly want their solar installations to be an aesthetic and technical improvement integrated with a home renovation, rather than a hefty module that is bolted onto their rooftop. POWERHOUSE 3.0 solar shingles fulfills this need."
Lacey adds, "We have been the POWERHOUSE solar shingles official warranty service provider since 2015. Given this familiarity with Dow and POWERHOUSE solar shingles, we are in a unique position to commercialize POWERHOUSE 3.0 solar shingles."
"We are very pleased to partner with RGS Energy for the commercialization of our POWERHOUSE 3.0 product," says Kirk Thompson, business director of Dow Solar. "We believe that RGS is well positioned to optimize the market potential for [the] POWERHOUSE 3.0 solar shingles system. The design of POWERHOUSE 3.0 solar shingles addresses the critical requirements of customers and installers and achieves a price point that will be very competitive."
The patented POWERHOUSE 3.0 product includes a base assembly and electrical connector into which a solar laminate is inserted. RGS expects the base assembly and electrical connector will continue to be made by U.S.-based companies. To ensure the commercial feasibility of the product, RGS adds, the company expects the solar laminate will be manufactured overseas.
RGS says it plans to expand its call center and digital marketing program to aggressively market the product using media that is well suited to demonstrate the ease of installation and aesthetic value of the product, such as television. Furthermore, the company says it plans to utilize and expand the regional roofing companies used for installation of the earlier generations of POWERHOUSE product, as well as enter new jurisdictions beyond the initial 18 where the earlier generations were installed.
Financial details and other terms of the agreement were not disclosed.