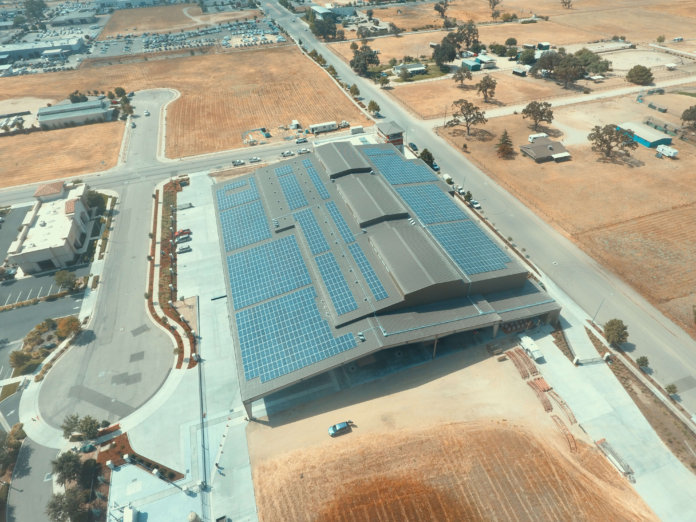 San Antonio Winery, the founding winery of Riboli Family Wine Estates, has completed a solar project that will supply energy to its new production facility and hospitality center in Paso Robles, Calif.
The 517 kW rooftop system was designed and built by REC Solar, a California-based provider of commercial, public-sector and utility-scale solar solutions. It is expected to generate 827,000 kWh of electricity annually, enough to power 60 homes for a year. The system will provide about 80% of the energy needed for the facility and is expected to save more than $4 million over the next 30 years.
"This year Riboli Family Wine Estates is celebrating our 100th year producing wine. The solar system and other sustainability measures at our newest facility in Paso Robles are perfect examples of the continued innovation that has helped make our business successful," says fourth-generation family winemaker Anthony Riboli.
"We are blessed to work in a beautiful area with a climate that provides us with plenty of sunshine," adds Riboli. "Using that sun to generate our own renewable power on our rooftop is a huge win. It empowers us to minimize our impact on the environment, create more predictable costs and produce incredible wine in our sustainable, modern facility."
The rooftop project uses 1,520 panels across approximately 100,000 square feet of roof space, and it will power both the wine operations and the adjacent hospitality center.
"The entire Paso Robles facility is an incredible showcase for San Antonio Winery's investment in the environment, the community and great wine," says Alan Russo, senior vice president of sales and marketing at REC Solar. "We are proud to have partnered with them on this solar energy initiative."