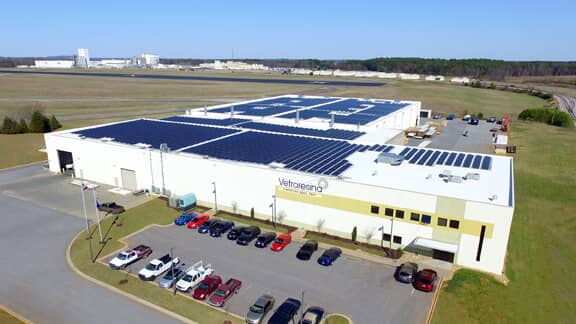 Fiberglass composite manufacturer Vetroresina LLC recently partnered with Georgia-based Hannah Solar on two solar arrays atop its facility in Greenville, S.C. Combined, the 639 kW systems produce 178% of the electrical needs of the facility, making Vetroresina a net-positive manufacturer.
"This isn't Vetroresina's first time investing in solar – our headquarters in Italy has a 1.3 MW array," notes Vetroresina CEO Elena Colombarini. "The energy savings, capital improvement, tax credits and our positive experience with solar in the past made it an easy decision."
Hannah Solar says the project was installed in conjunction with Duke Energy's Solar Rebate Program, which creates a three-year payback for the system. The solar energy produced by the system is equivalent to the energy needed for 63 homes.
"Hannah Solar considers Vetroresina to be true manufacturing solar pioneers," says Evan Becka, business development manager for Hannah Solar. "Large industry represents over 30 percent of global energy demand, and Vetroresina's commitment to renewable energy preserves natural resources and also improves the company's competitiveness in a global economy."