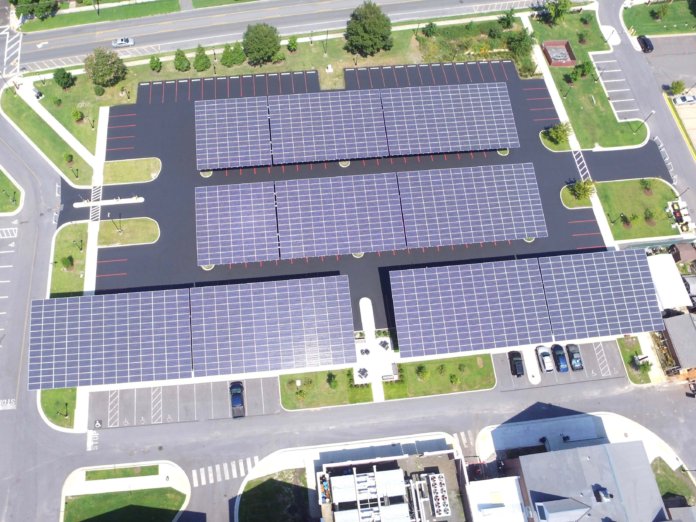 Maryland-based Salisbury University (SU) and developer Standard Solar have completed a 541.8 kW solar system featuring four solar canopies and five electric vehicle (EV) charging stations. The canopies will cover a parking lot to provide shade for the university's Parking Lot H, as well power to the adjacent educational buildings.
Completed in fewer than three months, the system is comprised of 1,548 modules that will produce 765,100 kWh of electricity annually and provide electricity to three campus buildings. The system is expected to provide the equivalent of 100% of the electricity needed to power the combined annual operation of three SU residence halls: Manokin, Pocomoke and Wicomico.
Standard Solar says the system features Quest Renewables' QuadPod double cantilever, which enabled the rapid project installation timeline. With three foundations per 100 kW, the QuadPod double cantilever can be applied to any parking lot configuration irrespective of parking spot width or drive aisle dimensions, and 90% of QuadPod's construction takes place on the ground, inclusive of module and inverter wiring, according to Standard Solar.
The system also features five EV charging stations, more than tripling the number on campus.
"Standard Solar's extensive experience was evident in how efficiently the project was completed. We look forward to realizing the full environmental, educational and sustainability value that the project will deliver," says Wayne Shelton, SU director of campus sustainability and environmental safety.
Standard Solar will own, operate and maintain the system for 20 years, after which ownership will revert to SU.