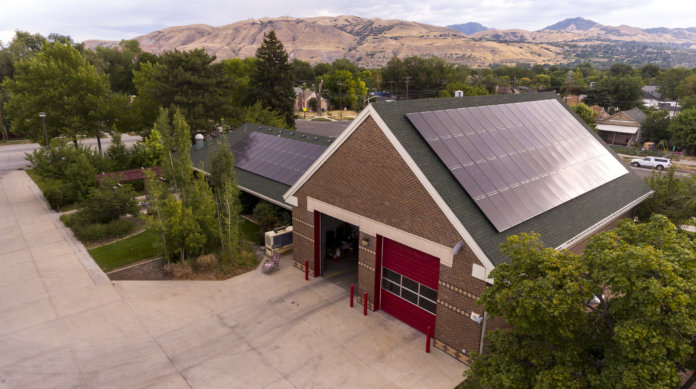 On Thursday at Fire Station 10, Salt Lake City Mayor Jackie Biskupski and other local officials discussed the city's recent investment in solar power on seven separate municipal facilities, including five fire stations.
According to a press release from the mayor's office, this latest round of completed installations doubles the total number of Salt Lake City municipal sites with solar energy to 14 separate facilities. When combined with the city government's recent enrollment in the Rocky Mountain Power Subscriber Solar Program, the total amount of solar energy equals roughly 12% of the annual electricity needs for city government facilities.
The new locations hosting solar installations thus far in 2017 include Fire Station 1, Fire Station 4, Fire Station 7, Fire Station 10, Fire Station 13, the Regional Athletic Complex and  the Pioneer Police Precinct. In total, 756 solar panels were added, and they will provide between 17% and 92% of on-site annual electricity needs, depending on the facility.
According to the release, the total net project costs were approximately $500,000 for all seven sites and will be paid back in utility savings within the warrantied lifetime of the solar panels.
"Salt Lake City is committed to powering our government operations – and, ultimately, the whole community – with 100 percent renewable energy," stated Mayor Biskupski. "This latest round of projects puts solar panels in seven distinct parts of the city, increasing access and visibility to the transition to clean energy that is under way."
"Rooftop solar has been growing at a roughly exponential rate in the Salt Lake City community since 2010," said Tyler Poulson from the city's Sustainability Department. "This means we've seen an annual doubling in the total amount of solar installed in Salt Lake City limits in recent years, and we now believe there are over 60,000 solar panels installed within our community. Renewable energy continues to become more cost-effective for everyone. We are confident that a 100 percent renewable electricity target can be achieved for Salt Lake City."
Fire Chief Karl Lieb said, "Of course, the Salt Lake Fire Department is committed to making an impact on emergency scenes and in crisis situations, but our team is also committed to promoting the environmental sustainability goals of our city and community. We work tirelessly to make positive impacts for people today – every day – and we want to consider future generations, as well."
Solar on the rooftops of government facilities represents just one of the ways Salt Lake City is moving toward a clean energy future, as detailed in the city's Climate Positive plan.