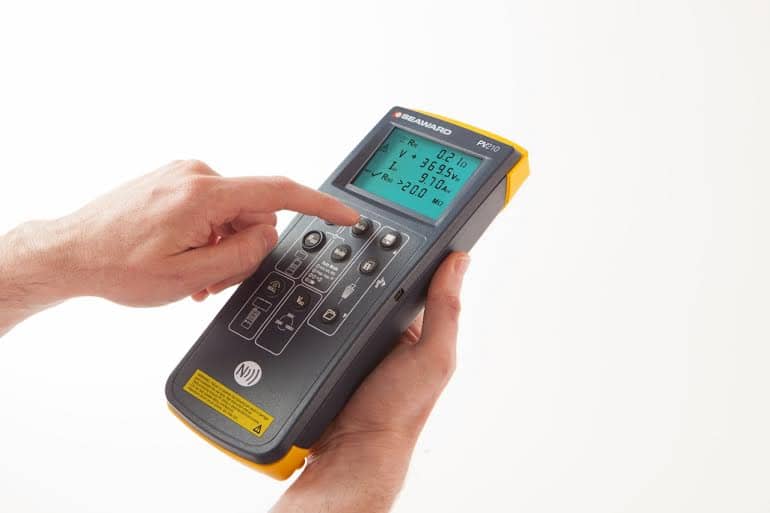 Florida-based Seaward Group USA has introduced PV210, a multi-purpose solar PV tester that combines installation and commissioning tests with the ability to perform I-V curve analysis.
The company says that using simple push-button operation, the battery-powered PV210 carries out all of the electrical commissioning tests required by IEC 62446, including open circuit voltage, short circuit current, maximum power point voltage, current and power, and insulation resistance.
Alongside the electrical tests, the PV210 also performs I-V curve measurements in accordance with IEC 61829 to determine if the measured curve deviates from the expected profile, highlighting the need for any further analysis or fault finding. The fill factor of PV systems can also be assessed.
For full detailed analysis, measured data can be transferred from the test instrument to an accompanying PVMobile Android app using wireless NFC connectivity to create color displays of the I-V and power curves for individual PV modules or strings, adds Seaward. In this way, the company says the visual comparison of curve shapes can be used to identify potential problems such as shading, defective cells or poor electrical connections.
The data can also be stored in the PV210's onboard memory and downloaded to a computer via USB connection. When used with the optional SolarCert Elements 2 software program, downloaded data can be organized using a layered tree structure showing strings, combiner boxes and inverters. In addition, professional inspection and test reports can be produced, including IEC 62446 measurements and I-V curve plots.