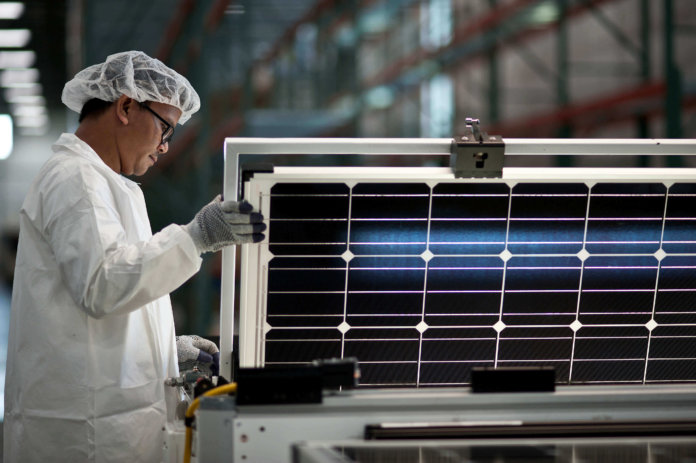 In the lead-up to a much-anticipated hearing at the U.S. International Trade Commission (ITC) next week, the two co-petitioners behind the Section 201 case, Suniva and SolarWorld Americas, have released an analysis claiming that new trade actions against solar imports would create, not kill, jobs. The study contradicts a previous analysis from the Solar Energy Industries Association (SEIA), a major opponent of the trade petition.
In a joint announcement, Suniva and SolarWorld Americas say their new analysis finds that if the ITC decides to impose an "effective remedy" in the case, it would result in a net increase of at least 114,800 new jobs across all segments of the U.S. solar industry, including up to 45,000 new U.S. manufacturing jobs. According to Christian Hudson, counsel for Suniva, the analysis covers the impact of Suniva's proposed initial import tariff of $0.40/W per cell, with a minimum import price of $0.78/W per module (which is inclusive of the $0.40/W cell tariff).
In the announcement, Juergen Stein, CEO of SolarWorld Americas Inc., says, "We need to ensure that the next generation of solar technology is developed here in the United States. In order to have a strong solar industry, America needs to have a strong solar manufacturing industry. With growth in manufacturing will come investment, R&D, and many thousands of additional solar industry jobs here in America."
"This is about bringing investment back to the U.S. solar manufacturing sector. A healthy industry should create jobs in the entire value chain, including manufacturing," adds Matt Card, Suniva's executive vice president of commercial operations. "This conservative analysis, using well-established U.S. Department of Commerce formulas, shows that this safeguard action can create huge impact in the manufacturing sector, even as we continue to see tremendous growth in solar installations."
According to the announcement, the analysis is based on a publicly available model developed by the U.S. Department of Commerce and GTM Research and finds the following:
100,000 New Non-Manufacturing Jobs: Non-manufacturing jobs in the U.S. solar industry would increase by nearly 100,000, including over 65,000 installation jobs;
45,000 New Manufacturing Jobs: Stabilization of U.S. prices that allows the U.S. to add even modest levels of new solar cell and module production capacity would create over 45,000 new manufacturing jobs;
Capacity Doubles by 2022: Installed solar capacity in the U.S. would increase every year between 2018 and 2022, with total installed capacity more than doubling by 2022; and
$3.3 Billion in New Wages: Capacity expansion will generate $2.5 billion in additional economic output and $3.3 billion in new wages.
The report comes after SEIA, which is leading a fight against the Section 201 case, released its own analysis in June claiming that 88,000 U.S. solar jobs would be lost next year if the ITC imposes trade protections.
Abigail Ross Hopper, president and CEO of SEIA, has spoken out against the new analysis from Suniva and SolarWorld Americas.
"The notion that doubling the price of solar panels would somehow increase demand and create jobs is preposterous," argues Hopper. "Careful and thoughtful analysis, not only by the Solar Energy Industries Association, but also Bloomberg New Energy Finance, Clearview Energy Partners, Goldman Sachs and GTM, bears this out. Additionally, SEIA has spoken with dozens of manufacturers in the supply chain who ardently oppose this petition because the projected decline in demand will force them to lay off workers. SEIA's members know what impact this will have on their ability to produce jobs; companies working in the solar industry today have been clear that Suniva's sought-after remedy will be devastating to the American solar industry."
On Aug. 15, the ITC will hold an injury determination hearing in Washington, D.C. Only if the ITC were to rule that solar imports are, indeed, causing injury by Sept. 22, the agency would recommend a trade remedy to President Donald Trump by Nov. 13. The president would then make the final decision.
To learn more details about the Section 201 case, check out an article from Solar Industry's July issue here.
Photo courtesy of SolarWorld