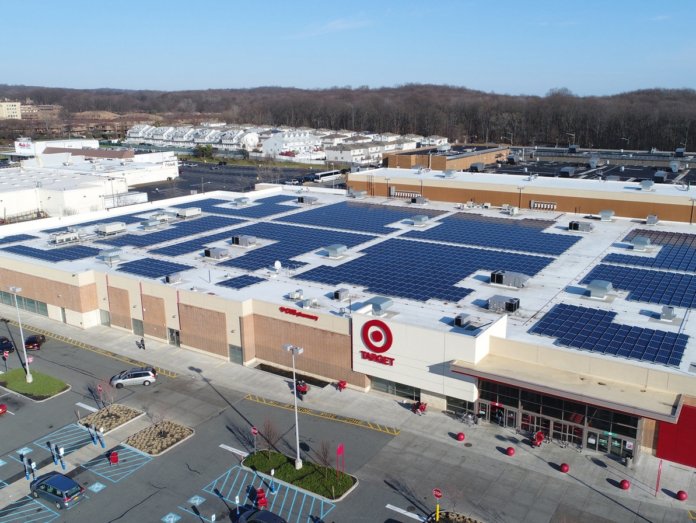 America's top companies are investing in solar in record amounts, according to the Solar Energy Industries Association's (SEIA) new "Solar Means Business 2017" report, which tracks on-site commercial solar installations and ranks top corporate solar users.
This year's report contains data from over 4,000 companies, totaling more than 2.5 GW of solar capacity across approximately 7,400 projects.
"To leading companies across America, deploying solar is a common-sense business decision," comments Abigail Ross Hopper, president and CEO of SEIA. "Large corporations have found that going solar not only benefits the environment, but also their bottom-line, satisfying both shareholders and customers alike."
Adding more than 40 MW of solar in 2017 – more than the annual total in 23 U.S. states – Target earned the top spot in the report for the second year in a row. Target now has 204 MW of installed solar capacity across 425 installations.
"At Target, we're designing for tomorrow and putting solutions in place across our business to leave our homes better for future families," says John Leisen, vice president of property management at Target. "And we're proud of the progress our team has made over the past year towards Target's goal to install rooftop solar panels on 500 buildings by 2020. As we continue our commitment to supporting our local communities, it's an incredible honor to be recognized by SEIA for the second year in a row."
Other top 10 companies recognized for their installed solar capacity include Walmart, Prologis, Apple, Kohl's, Costco Wholesale, GGP, IKEA, Macy's and Amazon.
"Solar is a vital component of Walmart's expanding renewable energy portfolio," states Mark Vanderhelm, vice president of energy for Walmart Inc. "As one of the leading U.S. companies for solar energy installations and capacity, Walmart plans to continue our efforts on seeking to find renewable energy projects that are right for our customers, our business and the environment. It is an honor to be recognized by SEIA for our work in the renewable energy space, as it serves as a confirmation that we are continuing to move in the right direction with our solar energy achievements and aspirations."
The Solar Means Business 2017 report, which is now in its sixth edition, notes that every week, 9.6 million people visit a solar-powered Walmart store; more than 19,300 Americans work at a solar-powered Kohl's; and Apple's solar facilities produce enough electricity annually to fully charge more than 44 million iPhones every day for an entire year.
More on the report can be found here.