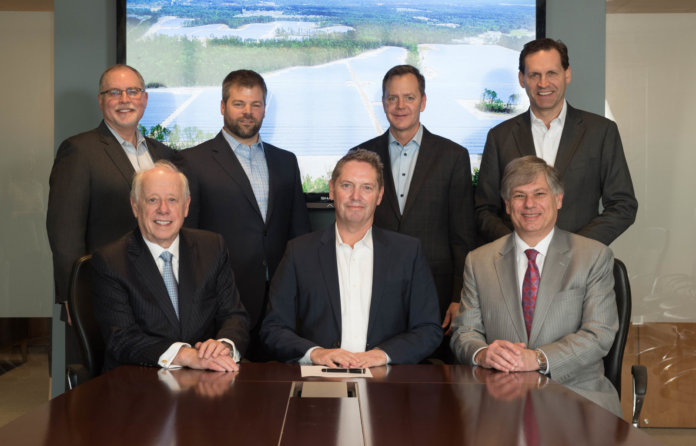 Oil and gas giant Shell has signed an agreement to acquire a 43.83% interest in Silicon Ranch Corp., a Nashville-based developer, owner and operator of U.S. solar energy plants.
As part of the agreement, Shell will acquire a 43.83% interest in Silicon Ranch from Partners Group, a private markets investment manager, for between $193 million and $217 million contingent on Silicon Ranch achieving predetermined milestones. The deal will make Shell the solar company's largest shareholder, and a separate agreement with Silicon Ranch will give Shell the possibility to increase its ownership after 2021. Subject to regulatory approvals, the transaction is expected to close in the first quarter of this year.
Silicon Ranch will continue to operate under its existing management and the Silicon Ranch brand. The solar company says it has doubled its operating portfolio for three consecutive years, with approximately 880 MW of PV systems that are contracted, under construction, or operating in 14 states from New York to California, and close to 1 GW more in its development pipeline.
According to Shell, its investment in Silicon Ranch is part of Shell's New Energies power portfolio, which prioritizes low-carbon generation and storage.
"We were impressed by Silicon Ranch's proven track record, its market-led development strategy, and its long-term ownership model and commitment to the communities it serves," comments Marc van Gerven, Shell's vice president of solar. "Partnering with Silicon Ranch progresses our New Energies strategy and provides our U.S. customers with additional solar renewable options. With this entry into the fast-growing solar sector, Shell is able to leverage its expertise as one of the top three wholesale power sellers in the U.S., while expanding its global New Energies footprint."
Matt Kisber, Silicon Ranch co-founder and CEO, says, "By pairing our solar expertise and trusted brand with the scale, resources and brand equity of Shell, we are well-equipped to collaborate with our utility partners to provide comprehensive, win-win energy solutions for them and their customers. As we welcome Shell to our team, Silicon Ranch also wants to thank Partners Group for the financial and commercial support that enabled us to surpass our ambitious growth targets over the last two years."
According to Silicon Ranch, Partners Group will continue to support the solar company through a newly issued junior debt financing simultaneous with the closing of the sale.
Reagan Farr, Silicon Ranch co-founder and chief financial officer, adds, "Shell shares our steadfast commitment to long-term partnership, and together we will unlock tremendous value in the U.S. solar market. This significant and strategic investment by Shell is in the best interest not only of our company and our employees, but also of our customers and the communities we serve, because it will allow us to capture synergies with Shell's businesses and benefit from its long heritage in providing energy services around the world."
Eversheds Sutherland (US) LLP represented Shell in the acquisition.
"We were delighted to work with Shell on its investment into Silicon Ranch, which reflects Shell's strategic plan to expand into alternative energy," says Ram C. Sunkara, the law firm's U.S. energy and infrastructure partner who led the deal with support from other firm members. "We are pleased that Shell was able to invest into a company with a proven track record and a history of commitment to the communities it serves."
Notably, this deal with Shell comes shortly after another major oil and gas company, BP, marked its re-entrance into the solar sector through an acquisition agreement with European developer Lightsource.
Photo courtesy of Silicon Ranch: Executives from the solar company and Shell