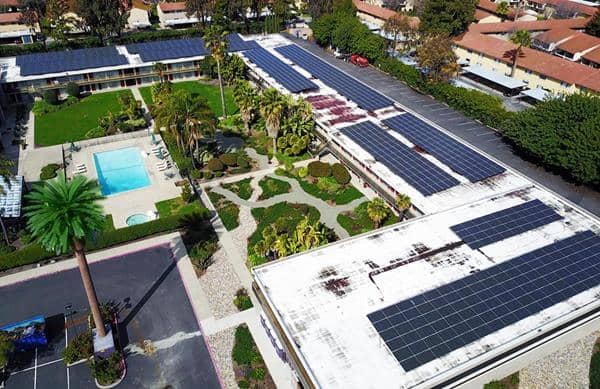 Ramada Silicon Valley, a hotel in Sunnyvale, Calif., has added a rooftop solar project and three electric vehicle (EV) charging stations in an effort to become more sustainable.
Built by Sky Power Solar, the 269 kW solar installation includes 996 Mitsubishi Electric Diamond Premium solar modules. It is expected to produce 426,000 kWh annually and provide power for at least 70% of the hotel's 175 guest rooms, public lighting and EV charging stations.
Situated between San Francisco and the Monterey Peninsula, the hotel has experienced rising energy costs, which prompted the decision to go solar. "We are proud to be able to help slow down the effects of global warming and make a contribution toward achieving the climate action initiatives of the City of Sunnyvale," says Jeffry Chang, president and co-owner of Ramada Silicon Valley.
In addition to the environmental benefits, the PV system has the potential to save the hotel approximately $100,000 per year.
David Chang, vice president and co-owner of the hotel, adds, "Thanks to support from Bay Area Air Quality Management District, we installed 3 EV charging stations, which will help to improve the air quality. We will be offering convenient and accessible EV charging to both our hotel guests and the general public."
The rooftop solar system features an elevated, semi-custom ISA racking system designed to maximize energy generation.
"Considerable effort was put into a unique design to generate targeted savings, making this a notable and worthwhile project," says Bob Winn, president of Sky Power, which has been installing residential and commercial PV solar projects in the San Francisco Bay Area since 2001.
"It's gratifying to see that Ramada Silicon Valley is setting an example for sustainable energy in the tourism industry," says Gina Heng, vice president and general manager of Mitsubishi Electric US Inc.'s photovoltaic division. "We're pleased that the hotel's ownership chose Mitsubishi Electric's solar modules to help achieve its energy reduction goals."