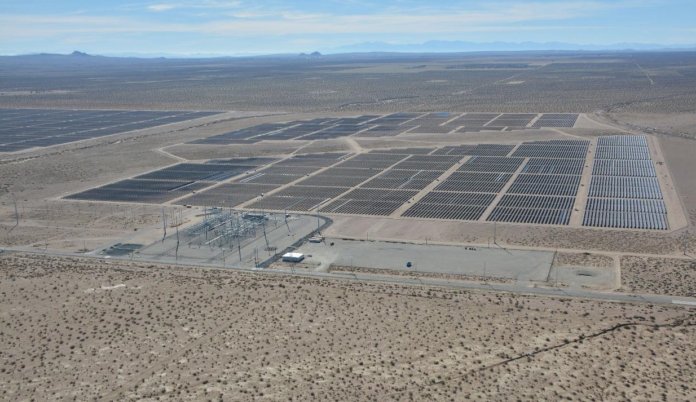 SMA has announced that 13 of its Sunny Central Storage inverters are being used in the Los Angeles Department of Water and Power's (LADWP) Beacon Energy Storage System, a 20 MW battery storage project at the Beacon Solar Plant in the Mojave Desert.
The new storage project will be owned and operated by LADWP to expand its energy storage portfolio, which already has 1,296 MW of energy storage capacity. The project will integrate solar resources into the grid and will help LADWP meet its target of 178 MW of new energy storage by 2021. It is strategically located to capture and mitigate the variability of 600 MW of solar power and 135 MW of wind power generated by several utility-scale renewable projects in LADWP's largest renewable energy corridor in neighboring Kern County. LADWP fast-tracked the new storage project in August.
Doosan GridTech is supplying the battery energy storage system for the project while its partner, KTY Engineering, will provide project and construction management. SMA says its Sunny Central Storage 2750-EV-US, which is compatible with different types of battery technology, will provide comprehensive grid management services and allow for integration of renewable energy into the grid while ensuring maximum grid stability.
"SMA is thrilled to work with Doosan GridTech, one of the top energy storage providers worldwide, to expand storage capabilities for LADWP and help them utilize more solar power," says John Susa, executive vice president of sales for the SMA America and the Asia Pacific regions. "We are confident that the Sunny Central Storage will be a reliable, robust solution to ensure a successful project for years to come."
Dan Sowder, Doosan's vice president of power systems integration, says, "We chose SMA for this project because of the company's proven ability to deliver product on time and the availability of its cutting-edge storage technology."