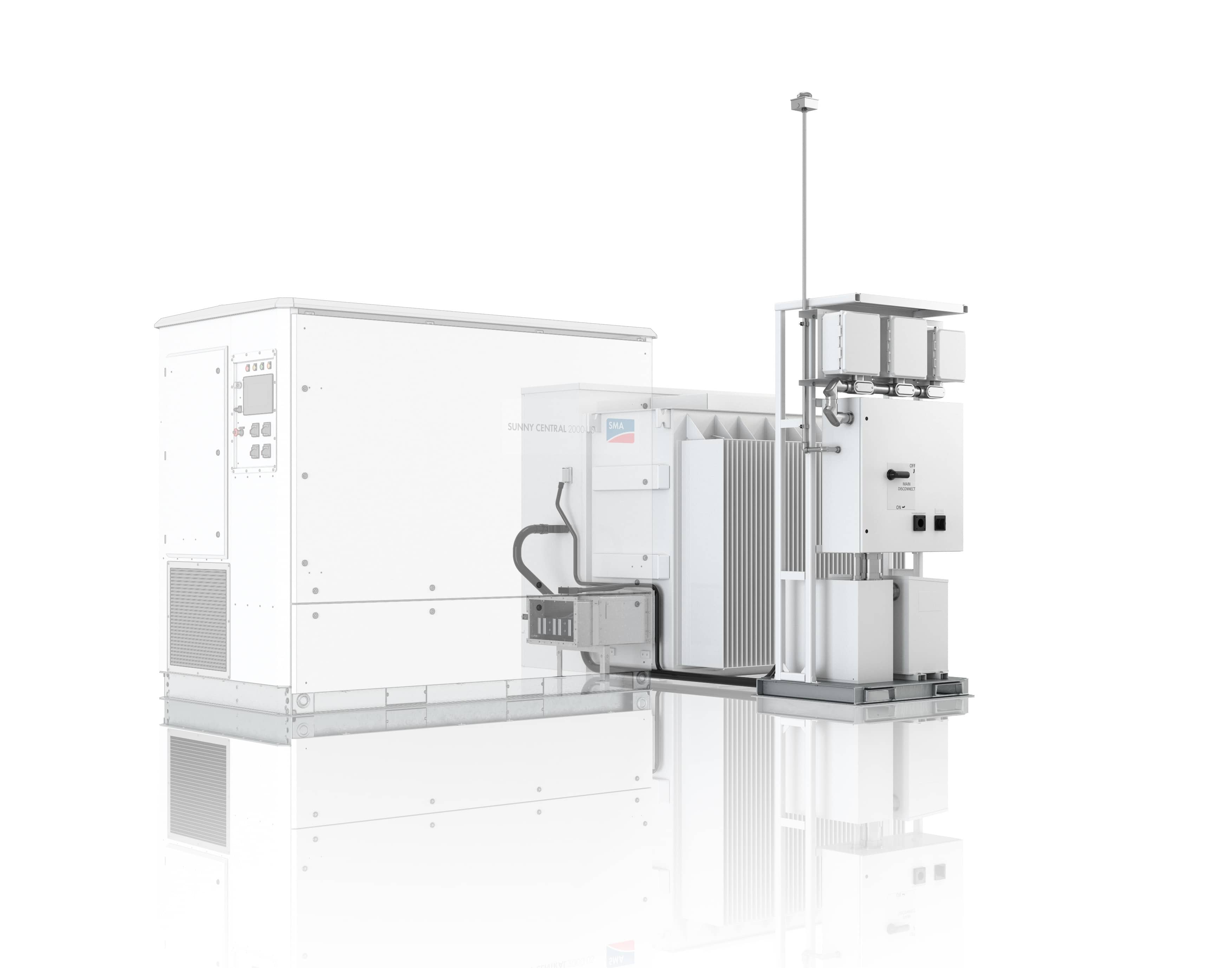 SMA says it has revamped its utility-scale Medium Voltage Block for even greater risk reduction, cost optimization, simplicity and convenience. The second-generation solution is available for delivery and includes the medium-voltage transformer, AC bus bar kit and optional tracker auxiliary rack. An integral part of the company's Utility Power System, it pairs with SMA's new line of central inverters: the Sunny Central 1850-US, 2200-US and 2500-EV-US.
"The new Medium Voltage Block further advances the level of integration in SMA's Utility Power System, creating the lowest-risk, highest-return utility-scale solution available to the North American PV market," says Marko Wittich, SMA executive vice president of sales for the Americas region.
According to the company, the Medium Voltage Block is specifically designed for the unique requirements of a PV application. It is a simplified solution mechanically, based on the layout of a traditional ANSI pad mount transformer, with low-voltage connections positioned horizontally in plane with the output bus bars of the inverter. To enable this shorter connection scheme, the low-voltage connections have been relocated to the side of the medium-voltage transformer in their own connection flange. All of the necessary hardware for installation, including the busway, bus bars, grounding straps, connection hardware, and transformer monitoring cable sets, are included.
SMA says these kitted components offer simplified field integration, requiring as little as one man hour, while eliminating the need for skid solutions that increase the total installed system cost and logistical complexity.
Engineered to minimize risk, the Medium Voltage Block has been fully type tested and validated at SMA's engineering facility to meet the needs of PV applications with a 25-year service life. Its space-optimized design with a 22% smaller footprint reduces shipping costs, while fewer components and easy access maximize serviceability.
Transformer monitoring, communicated through the inverter MODBUS registries, reports the health of the transformer, including analog values for temperature and pressure, which enables trend-based predictive maintenance that can reduce operations and maintenance complexity.