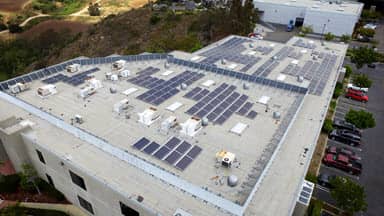 San Diego-based Baker Electric Solar has designed and installed a 168.025 kW rooftop and carport solar system for Vanguard Industries West, a Carlsbad, Calif.-based distributor of military insignia.
Baker says the installation of 517 Hyundai 325 W solar modules will produce roughly 76% of the company's annual electricity needs.
In addition, Vanguard Industries West, whose Carlsbad facility is 35,000 square feet, is expected to save more than $51,000 on its energy bill the first year, says Baker, which designs, installs and maintains solar systems across Southern California.
"Our utilities have continued to go up and up," explains Michael Harrison, executive vice president and chief operating officer of Vanguard Industries West, which says it will soon be celebrating its centennial year. "We felt switching to solar was the right choice because of the economics, as well as doing our part to become environmentally more responsible."
Scott Williams, Baker's director of commercial solar, adds, "Doing business with a company that has faithfully served our armed forces is an honor. We are extraordinarily pleased Vanguard trusted Baker with their new system."