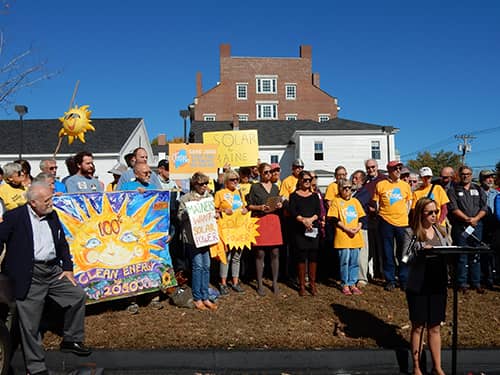 Yesterday, at a public hearing by the Maine Public Utilities Commission (PUC), a large crowd of Maine residents, business owners, community leaders and others gathered to oppose the agency's proposal to roll back solar net metering.
According to a press release from the Natural Resources Council of Maine (NRCM), the attendees criticized the PUC's proposal as "extreme, unfair and likely even illegal." In addition, many speakers called on the legislature to adopt a pro-solar, pro-jobs policy to get Maine out of its current last-place standing in the Northeast.
According to the group, the PUC proposal would make four major changes to existing net-metering rules:
Phase out net metering as it currently exists. For new solar customers, this phase-out would reduce what they receive for the solar power they put on the grid by more than half of what they receive today.
Put a new fee on new solar customers for consuming the power they produce right in their own home or business. This new grid tax is hidden behind a new phrase called "nettable energy." It is analogous to the grocery store's charging for food grown in your garden.
Give existing solar customers continued use of traditional net metering for 15 years, after which they would be subject to the two solar rollbacks above.
Remove the 10-person limit on community solar farms. However, larger solar farms will also be subject to the phase-out of net-metering bill credits.
During the PUC's review of net metering this summer, explains the group, approximately 4,400 Maine entities submitted comments or signed petitions asking the PUC to leave net metering intact (or make changes that expand its availability).
According to the PUC's own rules, says the NRCM, the commission was required to "review net energy billing to determine whether it should continue or be modified" because solar installations have reached 1% of the power generated in Maine. However, during this review, the PUC gathered no evidence, despite the fact that commenters repeatedly asked the commission to complete some analysis of net metering before proposing changes, says the NRCM.
"The PUC failed to do its job, which was to properly review net metering, and ignored evidence from its own study about the benefits and cost-savings solar brings to everyone in Maine who pays an electric bill," said Vaughan Woodruff, owner of Insource Renewables in Pittsfield. "As a result, the proposed rule change would not only take Maine in the wrong direction on solar, but it would also mean higher electric bills for Maine ratepayers."
While solar power is enjoying enormous growth and feeding rapid job creation across the Northeast and beyond, Maine remains in last place regionally on solar installations and jobs, due to the lack of effective state policy, according to the NRCM.
"The City of Belfast has invested in municipal solar projects to reduce energy costs and provide long-term financial stability to taxpayers," added Sadie Lloyd, assistant planner with the City of Belfast. "Our systems generate up to 20 percent of the city's electric bill. Net metering is crucial to municipal solar projects. Without net metering, the City of Belfast would not have installed solar. For this reason, we urge the PUC to continue the program."
"The failure of the Public Utilities Commission to do the right thing means it is more important than ever for the Maine legislature to step up and pass a solar bill next session," said Dylan Voorhees, clean energy director for the NRCM.
In a statement, State. Sen. Tom Saviello, R-Wilton, added, "I am concerned about the future of solar in Maine. While I appreciate that the PUC is undergoing a process to review our solar policies like net metering, I am concerned their recommendations go beyond their directive to explore options and instead pave a path towards regression on solar in our state.