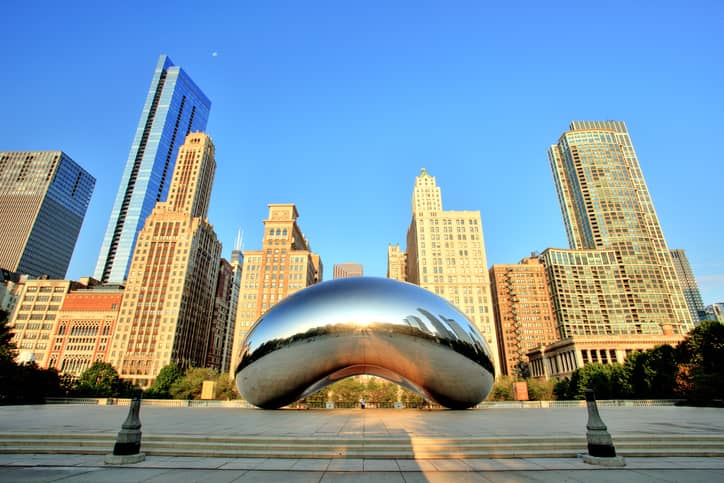 Update: As expected, Gov. Bruce Rauner signed the bill into law on Wednesday.
On the final day of its veto session last week, the Illinois General Assembly approved the Future Energy Jobs Bill (S.B.2814), controversial energy legislation that ultimately received support from environmental and solar advocates. The bill now goes to Gov. Bruce Rauner, who is expected to sign it into law.
The final legislation is the result of months of negotiations and compromise between Illinois-based utility Commonwealth Edison (ComEd), parent company Exelon, energy and environmental groups, and the governor's office, among other stakeholders.
Although the comprehensive bill includes myriad energy-related provisions, it contains what has commonly been deemed a "bailout" for two of Exelon's struggling nuclear power plants in Illinois. Without subsidies provided in the bill, Exelon had warned that it would need to close down the facilities, cutting over 4,200 jobs.
Before backing the legislation, Rauner reached an eleventh-hour agreement with ComEd and Exelon to ensure the bill included cost caps.
"For months, our administration has been very clear that any energy legislation should follow the guiding principles of protecting jobs, ratepayers and taxpayers," the governor says in a statement. "After dozens of hours of good-faith negotiations, we have reached an agreement that aligns with those principles. This legislation will save thousands of jobs. It protects ratepayers, through guaranteed caps, from large rate increases in years to come."
The governor adds, "This process shows that when all parties are willing to negotiate in good faith, we can find agreement and move our state forward."
Despite its nuclear provisions, the energy bill still garnered support from a range of renewable energy and environmental organizations. Jack Darin, director of the Illinois chapter of the Sierra Club, says in a statement, "While this bill contains difficult compromises, this is a tremendous leap forward for clean energy in Illinois."
According to the groups, the legislation is poised to "fix" Illinois' renewable portfolio standard (RPS) and boost clean energy in the state. The bill includes some solar-specific provisions and leaves out proposed plans that could have hurt the state's solar market. It also expands energy efficiency programs.
The legislation maintains Illinois' current 25% by 2025 RPS goal, but it modifies how the mandate should be met. For example, Illinois energy providers will no longer be able to meet certain RPS requirements with existing or out-of-state projects – setting the stage for a boom in Illinois renewable energy development and, thus, clean energy jobs.
Andrew Barbeau, senior clean energy consultant for the Environmental Defense Fund (EDF), says the bill preserves the existing "cost cap on rates that customers have been paying for renewable energy for years, but redirects that money to go to actually building new projects, rather than buying cheap credits from projects already paid for by customers in other states."
Barbeau says the RPS changes could lead to thousands of megawatts of new solar and wind development in Illinois – a state that currently has only 66 MW of installed solar capacity, according to the Solar Energy Industries Association. He also notes that the bill will require 50% of the revamped RPS' solar carve-out to be met with rooftop and community solar projects.
In a statement from EDF, Barbeau says, "Illinois passed the most significant clean energy economic development package in the state's history, bringing Illinois one step closer to a cleaner, more reliable energy system. Illinois now stands at the forefront of a smarter, healthier energy future."
The bill also establishes the Illinois Solar for All Program, which will offer "meaningful incentives" to low-income communities and job training, according to Vote Solar's Melanie Santiago-Mosier.
In an online article, Santiago-Mosier writes, "While the fate of Exelon's aging nuclear power plants got a lot of the attention, there are positive elements to the legislation."
She notes, "[W]e think the Illinois Solar for All program, with a sustainable source of funding, the inclusion of job training and community engagement, promises to deliver the benefits of solar to the customers in Illinois who stand to gain the most."
What isn't included in the Future Energy Jobs Bill, though, is almost as important as what is.
For example, environmental advocates celebrated a victory after ComEd and Exelon agreed to remove proposed subsidies for coal-fired plants from the bill. Furthermore, the energy companies agreed to drop plans for mandatory residential demand charges, which Rauner's administration called "insane," and changes to net energy metering (NEM), which The Alliance for Solar Choice (TASC) warned would have hindered Illinois' distributed solar market.
Instead of lowering residential NEM rates to wholesale ones, TASC says, the bill maintains the current retail rates for residential solar customers until an existing 5% cap is reached. After that, the energy companies plan to move to wholesale rates for residential NEM but provide a new rebate based on a locational value. Commercial solar projects, which already receive wholesale NEM rates, will get an additional rebate under the legislation.
"We are encouraged to see S.B.2814 pass without anti-consumer, anti-solar proposals," says Amy Heart, director of public policy for Sunrun and spokesperson for TASC. "Legislators and utilities listened to the public and to consumer advocates – like Illinois Attorney General Lisa Madigan and AARP – and made it clear that job growth, the environment, and energy choice are important."
TASC warns that work still lies ahead in order to ensure Illinois regulators provide "a fair valuation of the benefits of rooftop solar" when the 5% NEM cap is reached in the future.
In a statement, Chris Crane, president and CEO of Exelon, calls the Future Energy Jobs Bill a "forward-looking energy policy" that "levels the playing field and values all carbon-free energy equally, positions Illinois as a national leader in advancing clean energy, and will provide a major boost to the Illinois economy."
Crane continues, "This has always been first and foremost about doing the right thing for our customers, the talented men and women who operate the plants, and the communities we serve."
According to ComEd, after the governor signs it, the bill will take effect in June 2017.