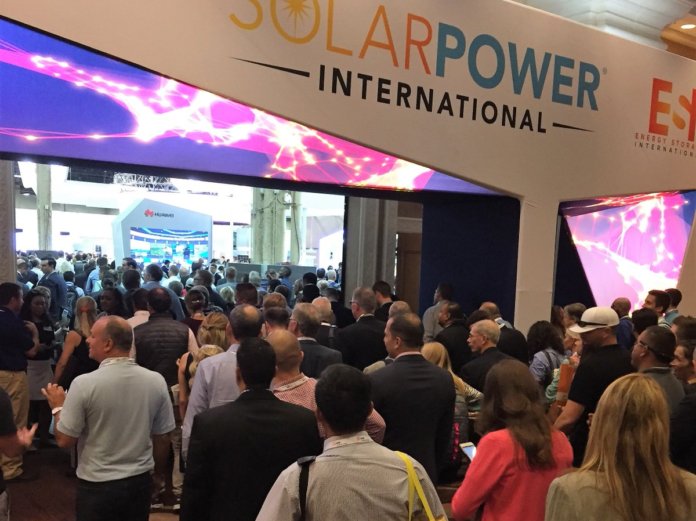 Every solar trade show provides a chance to gauge what industry insiders are thinking, and last week's Solar Power International (SPI) event in Las Vegas was certainly no exception. In fact, the Solar Energy Industries Association (SEIA) says SPI, which was co-located with Energy Storage International, reached a whopping 20,000 attendees this year – that's a lot of brains to pick! However, three common themes quickly emerged among the conversations Solar Industry was fortunate enough to have with several attendees on the exhibit floor, as well as through major announcements made during the event.
Uncertainty
Of course, the main topic on just about everyone's mind at SPI was the Section 201 trade case. Although the case was aptly dubbed "the elephant in the room" at the Intersolar North America conference in July, SPI served as a unique and supercharged – if not slightly awkward – environment. That's because SEIA, which has led a massive campaign against the case, was a co-host of SPI and because trade case co-petitioner SolarWorld Americas, which was noticeably absent at Intersolar NA, had a prominent booth this time around at the Vegas show.
Furthermore, SPI came about a month after SEIA and co-petitioners Suniva and SolarWorld presented their testimony at a hearing in August and just before the U.S. International Trade Commission (ITC) is slated to determine the fate of the Section 201 case. As previously reported, the co-petitioners argue cheap imports into the U.S., namely from Chinese-owned companies, make it difficult to compete, and the manufacturers are seeking new global tariffs and minimum prices on crystalline silicon photovoltaic cells and modules imported into the U.S.
The ITC is scheduled to vote this Friday on whether solar imports have, indeed, caused "serious injury" to the U.S. module manufacturing industry. If at least two of the four commissioners agree, the ITC will move ahead with the remedy phase of the safeguard investigation. If, however, there is a majority vote against the petition, the case will not go forward.
At SPI, SEIA and the group's leader, Abigail Ross Hopper, continued to present the organization's argument against the trade case to show attendees. For example, SEIA released a video during SPI that profiled a number of U.S. solar manufacturers whose jobs the group claims could be in danger if the petition is successful.
"The solar industry is an American success story, and the 38,000 American workers in the solar manufacturing sector are a huge part of that story," said Hopper, SEIA's president and CEO, in a related press release. "It's important that policymakers hear directly from the Americans whose livelihoods are at stake with this trade case."
In the video, Russell Schmit, president and CEO of North Carolina-based manufacturer Schletter Inc., said, "If the prices go up artificially because of these tariffs to protect two very small companies, then we're going to lose business. We're going to lose employees. And it could be half of our employees who end up being unemployed as a result of it."
Notably, although SEIA's Hopper came out swinging against the case at SPI, Julia Hamm, president and CEO of the Smart Electric Power Alliance (SEPA), said during an interview at SPI that show co-host SEPA has no official position on the trade case but continues to "support the growth of solar at the lowest cost."
During an interview at SolarWorld's booth, the Oregon-based manufacturer's trade counsel addressed arguments made by SEIA and other case opponents that SolarWorld's financial troubles are the result of bad business decisions and practices, rather than global market conditions.
"We strongly disagree with those claims," stated Tim Brightbill, partner at Wiley Rein LLP in Washington, D.C. He argued that SolarWorld is a "leading supplier across the country" and is well known for its "innovative research and development" work.
"The evidence strongly supports our trade case, and because the evidence is weak for SEIA, they've chosen to blame the victim for the harm," said Brightbill. "It makes no sense." He added that negative claims are "completely false" and "very unfortunate."
Although Georgia-based Suniva initially launched the Section 201 petition after going bankrupt, SolarWorld joined as a co-petitioner in May ahead of a mass layoff.
"We didn't want to pursue this, but we had to because of what happened – clearly, there has been a surge of imports," said Brightbill. "The American solar industry is thriving, but unfortunately, the one segment suffering is manufacturing."
He claimed relief under Section 201 would create jobs for the U.S. solar industry as a whole, noting a recent analysis from SolarWorld and Suniva that alleged the proposed trade actions would lead to at least 114,800 new jobs across all industry segments. That study contradicted an earlier SEIA analysis claiming that 88,000 U.S. solar jobs would be lost next year if the ITC imposes the trade protections.
"We've heard these doomsday scenarios before," said Brightbill, referring to claims made by opponents during the U.S.' previous SolarWorld-led antidumping and countervailing duty cases against Chinese and Taiwanese imports – though SEIA remained relatively neutral on those cases.
"Regardless of what SEIA says, I think [SPI] attendees understand what SolarWorld is trying to do," he said, later adding, "A strong manufacturing sector is fully compatible with a strong industry overall."
With the ITC's injury determination coming up, Brightbill said he "can't make a prediction" about how the commission will vote, "but we have a strong case."
In fact, although Boviet Solar USA opposes the Section 201 petition "100 percent," John Bereckis, president of the company's module division, said at SPI he thinks it is "inevitable" that the ITC will move the case forward to the remedy phase.
"SEIA did a very good job of fighting this," said Bereckis. "But [Suniva and SolarWorld] showed enough information that there was an overabundance of modules in the market. Unlike the previous U.S. trade cases, that's all they really needed to do."
As the ITC explains on its website, "Section 201 does not require a finding of an unfair trade practice, as do the antidumping and countervailing duty laws."
Nonetheless, Bereckis echoed SEIA's claims that thousands of U.S. solar jobs could be in danger and advocated "fair market competition and diversification, which ultimately lead to better products."
He also said Boviet Solar USA – whose modules are manufactured in Vietnam and, thus, would be subject to the potential tariffs – isn't too worried about the outcome. First, Bereckis believes the end tariff "will be smaller rather than large" because the ITC "will have to look at how this will affect the whole supply chain." Second, he admitted that because a tariff might drive overall prices up and Boviet's modules are currently a bit more expensive than some other companies', "this could give us an opportunity." Bereckis said, "At the same price point, we'd be able to instead compete more based on warranty, quality and bankability."
He added, "The solar market will always go up and down – it's cyclical – but when the dust settles after this case, the market will work itself out and continue being strong."
Interestingly, Mukesh Sethi, group manager and head of the solar products division at Panasonic Eco Solutions Co. of North America, also suggested a potential tariff might not be harmful to Panasonic, which manufactures modules in Malaysia.
"Because we make premium modules," Sethi said, "we're used to selling at a higher price point."
Meanwhile, Chris Fisher, product development and marketing manager of CertainTeed Solar, said of the case, "I think everyone's concerned about it. There is a lot of uncertainty, and no one knows what's going to happen."
CertainTeed Solar, a subsidiary of building products giant Saint-Gobain, produces both building-integrated PV shingles and traditional solar modules. Although the company offers certified American-made modules, it sources its cells from overseas; therefore, CertainTeed Solar would likely by affected by potential tariffs. Despite the potential "turbulence," though, Fisher said, "We're not going anywhere; we're in it for the long haul."
Badri Kothandaraman, the newly crowned president and CEO of California-based micro-inverter specialist Enphase Energy, said, "The date is coming. I'd be lying if I said we weren't concerned." However, regardless of the ITC decision, Kothandaraman said Enphase will "still focus on what we do and continue growing."
He added, "U.S. solar penetration is increasing – that tells you the opportunity is there. We can bring solar to the masses."
When talking about the trade case, Tony Clifford, chief development officer of Maryland-based solar provider Standard Solar, didn't hold back.
After reiterating that SolarWorld has a German parent and Suniva is majority owned by a Chinese company, Clifford said, "It's ridiculous! They're using American law to screw over the whole industry."
Progress
Regardless of what might be in store with the trade case, the U.S. solar industry has experienced significant progress and likely has a bright long-term future ahead – as proven by some major reports released during SPI.
At the show, SEIA and GTM Research launched their latest U.S. Solar Market Insight Report, which found that the domestic industry had its biggest second quarter yet after installing almost 2,387 MW of PV. That figure also topped the first-quarter 2017 total of 2,044 MW installed.
"This report shows once again that solar is on the rise and will continue to add to its share of electricity generation," said Hopper in a press release. She then also repeated SEIA's message about the trade case. "Last year, solar companies added jobs 17 times faster than the rest of the economy and increased our GDP by billions of dollars. We are going to continue to fight for policies that allow the industry to continue this phenomenal growth."
In addition, the U.S. Department of Energy's (DOE) National Renewable Energy Laboratory (NREL) and SunShot Initiative released new research noting major milestones for the industry.
For example, NREL's study found that the installed cost of U.S. solar power dropped to record lows in the first quarter of this year, with utility-scale solar costs plummeting nearly 30%. The study overlapped the DOE's announcement – and an exclusive cover story in Solar Industry's September issue – revealing that the SunShot Initiative met its 2020 cost target of 6 cents/kWh three years early. Furthermore, the industry is well on its way to meeting SunShot's residential and commercial-scale solar 2020 cost goals.
At SPI, Daniel Simmons, the DOE's acting assistant secretary for energy efficiency and renewable energy, also announced an expansion of, and broader focus for, the SunShot Initiative.
In a prepared statement, Simmons said, "With the impressive decline in solar prices, it is time to address additional emerging challenges." Therefore, he announced up to $82 million in funding for early-stage research in concentrating solar power and power electronics.
Hopper welcomed the development in a press release, saying, "This week's news is a testament to the strength and cost-competitiveness of solar power here in America. In many parts of the country, solar energy is now the cheapest form of electricity.
"The SunShot Initiative has made significant contributions to lowering the cost of solar power nationwide and advancing critical, innovative research, and we appreciate the Trump administration's recognition of this. We are strong supporters of the program and believe it should continue to receive robust support."
Hopper added, "As an industry, we are excited to surpass the next set of milestones DOE has set. However, the extent to which solar will be able to achieve these new long-term goals could depend on whether additional costs, through unhelpful trade policy, are added to the economic equation. We remain hopeful decision-makers in the case will not put a damper on solar's proven record of economic success."
Promise
Although DNV GL released its "Energy Transition Outlook" report in the lead-up to SPI, the global energy advisory and certification company officially launched and celebrated the study at the trade show.
The study forecast that renewable energy resources will account for 85% of global electricity production by 2050. Solar PV, specifically, is expected to provide about one-third of the world's electricity by then, which is a huge increase of 85 times compared to 2015, according to the report.
"People are calling us 'very brave'; we don't try to be brave," said Ditlev Engel, CEO of DNV GL – Energy, during an interview at SPI. He claimed that DNV GL's analysts used their expertise and the best data available to come up with an unbiased and "tangible" report.
"Wind and solar are resources that can scale extremely fast, as well as get cheaper," said Engel. Other technologies, such as energy storage and energy efficiency, are also expected to play a pivotal role in the future. He added, "Technology is evolving so quickly and creating new opportunities."
Nevertheless, he warned that the study's encouraging expectations for global renewable energy "still will not be enough" to meet the climate targets of the Paris Agreement. Engel suggested the world is "exhausting" its "carbon budget," and changes – including to policies, investments, public awareness and energy usage, among other factors – are "essential to success."
With the expected rise of renewables comes the need for integration of different technologies and digitalization, as well. "Electricity is complicated," he said, adding transmission build-out and energy storage "will be a big part" of the overall equation.
SEPA's Hamm agreed that integration is essential. According to her, that's one of the main reasons SEPA swapped the "s" in the organization's name from "solar" to "smart" last year and recently merged with SGIP.
She said SEPA has been "expanding into all aspects of the grid," including storage, electric vehicles and demand response. "We will continue to always work on issues specific to solar. Our broader scope was additive, not a replacement."
However, she said, "The other layer is how all of this works together, especially from a utility perspective. As solar matures, it's important to plan and to understand how it fits into the bigger picture. The growth of solar will be limited without other, new technology and tools."
SPI also came shortly after the Trump administration released its long-awaited and controversial grid reliability study and after the U.S. was pummeled by hurricanes.
Speaking about the grid study, which was initially ordered by Energy Secretary Rick Perry to determine the need for traditional baseload power and renewables' effect on electric grid reliability, Hamm stated, "Flexibility is the key. The DOE report touched upon that a bit, but integration is a value add to the grid system, not a distractor."
Although Engel, a European, was unaware of the DOE study, he laughed when asked whether renewable energy hinders grid reliability. "Not in Europe," he said.
His colleague, Raymond Hudson – solar segment director for DNV GL based in California – added, "Renewables don't put grid reliability at risk. A well-designed system that is integrated can handle increased amounts of renewable energy."
Separately, Panasonic's Sethi discussed the recent hurricanes and how they affected home and business owners. "I think storage is going to be huge," he said. "Millions of people were without power, but solar is no good in those instances without storage."
(In fact, experts have recently discussed how distributed solar, especially combined with storage, might help during natural disasters.)
Although uncertainty, progress and promise emerged as three main themes at SPI, other topics, including the continued need for solar workforce diversity, were also prevalent during the show. In the end, SPI proved to be jam-packed not only with attendees, but also with industry insight.
Photo courtesy of SEIA's Twitter page