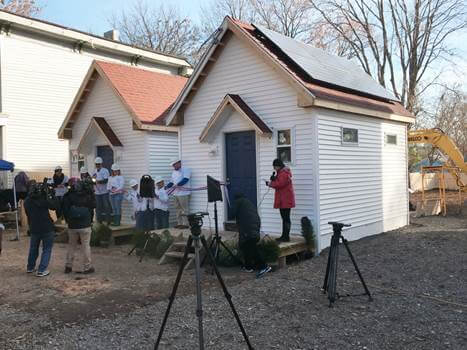 Module maker Mission Solar Energy LLC, in collaboration with nonprofit Serenity for Women and installer Nickels Energy Solutions, is proud to announce the completion of a unique solar project benefiting homeless female veterans.
Because women veterans are nearly three times more likely to be homeless as non-veteran women, Cindy Seymour, president of Serenity for Women, sought out partnerships and property to create long-term, sustainable homes for these women in the Syracuse, N.Y., community.
Serenity for Women has led the construction of two new tiny homes that will be turnkey for the participants. Located in Syracuse, these 12' X 16' tiny homes will provide residents with a living room, kitchen, bathroom and sleeping area. Not only will each tiny home be fully furnished and functional when women arrive, but it will also feature a solar system.
"Including a solar system seemed to be the logical way to go when considering sustainable solutions for these homes," says Seymour.
Nickels Energy Solutions, a Syracuse-based solar panel installer, generously provided the design and installation labor for no cost to the nonprofit organization. Additional funds were raised locally to pay for the materials needed to install the solar panels.
"When I first heard of Serenity for Women's plan to address homelessness in our community, I immediately thought that solar panels should be included in the design plans and fundraising efforts," says Kevin Nickels, vice president of Nickels Energy Solutions. "Cindy Seymour at Serenity for Women was on board with the idea right away, but she was very clear from the beginning that we had to use USA-made products. We install Mission Solar Energy's PERC 60 solar panel on a regular basis already, so we were confident in suggesting Mission Solar panels for the tiny homes"
Mission Solar Energy says it was pleased to supply its Texas-built solar panels to this endeavor.
"Joining forces with Nickels Energy Solutions to supply our solar modules for this project seemed to be a natural fit. We are proud to design, engineer and assemble our products in the U.S. and are honored to support America's heroes," comments Sam Martens, commercial operations director of Mission Solar Energy.
These tiny homes are hoped to be the first of many. Mission Solar Energy says plans to partner with Serenity for Women for future tiny homes benefiting homeless veterans are being explored.