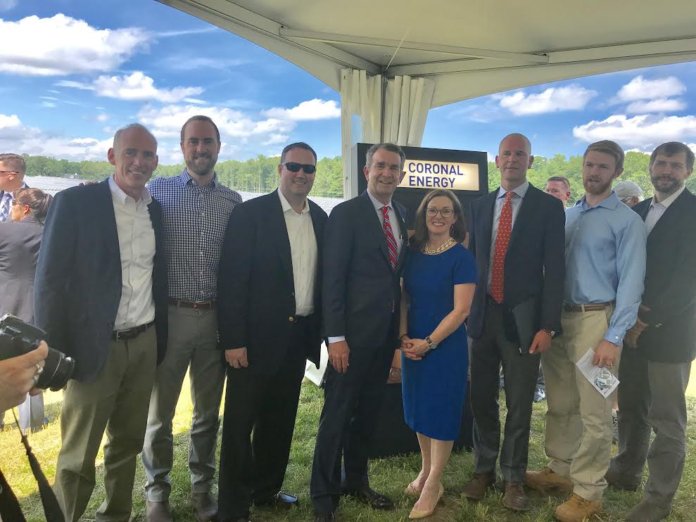 Today, Coronal Energy, an independent power producer focused on utility-scale solar and storage projects, and Central Virginia Electric Cooperative (CVEC), a member-owned electric distribution cooperative, celebrated the commissioning of the Palmer and Martin solar centers in central Virginia.
Gov. Ralph Northam, D-Va., joined public officials, CVEC's board, landowners and representatives from the National Rural Electric Cooperative Association (NRECA) to mark the occasion with an on-site ceremony.
"I applaud CVEC for demonstrating that low-cost renewable energy is a viable concept in rural Virginia," said Northam. "It is critical that the Commonwealth of Virginia not be left behind as a destination for the one of the fastest-growing sectors of our economy, and these projects set the example that solar energy can compete anywhere."
Located along the Interstate 64 corridor, the two projects, totaling 10 MW AC, were constructed by McCarthy Building Cos. They will generate enough clean electricity to power roughly 1,200 homes annually.
Together, the projects combine to make up the largest solar project in the state for an electric distribution cooperative, says Coronal Energy. CVEC will purchase the projects' output under a 25-year power purchase agreement, while Coronal Energy will own and operate the facilities.
CVEC serves some 36,000 members across 14 Virginia counties and is one of 11 cooperatives in the state currently using solar energy, according to NRECA. The Palmer Solar Center in Troy and the Martin Solar Center in Kents Store are located in Fluvanna and Goochland counties, respectively, where CVEC serves over 9,000 members.
CVEC plans to offer 4 MW of the 10 MW generated by the solar centers to its members as a part of Solar Share, its community solar program.
"As a not-for-profit, member-owned organization, CVEC's strategy remains focused on capturing tremendous value for our co-op members," comments Gary Wood, president and CEO of CVEC. "Adding cost-effective solar power to our diversified portfolio furthers that mission, as we continue to provide reliable, affordable energy to the communities, businesses and residents we serve."
One of the two sites also boasts a coincidental but fitting connection to CVEC through Grover Palmer, a 39-year veteran of CVEC who retired in 2002, and his wife, Wanda. About 41 acres of their land in Troy now host the eponymous Palmer Solar Center. Previously contracted out to corn and soybean growers, the land proved attractive for solar development because of its flat ground and close proximity to co-op electricity grid infrastructure.
"It's the first time in my history of solar development where the landowner is also a former employee of the utility," says Kyle West, vice president of development for Coronal Energy. "What a fitting testament to just how connected co-ops are to their members and communities."