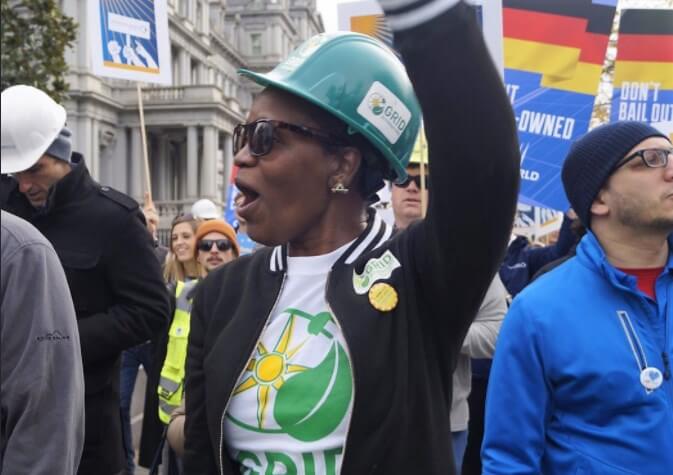 On Wednesday, solar industry stakeholders converged once again in Washington, D.C., for  what was likely the final public hearing on the controversial Section 201 trade case before President Donald Trump makes his decision.
The Office of the United States Trade Representative (USTR), which advises the president on trade matters, held the meeting to evaluate the case and heard testimony from an array of advocates and opponents. Representatives from both sides offered few new arguments than those made at the previous U.S. International Trade Commission (ITC) hearings. Nonetheless, co-petitioners Suniva and SolarWorld Americas pushed for tougher trade actions than what the ITC had recommended in late October. And the Solar Energy Industries Association (SEIA) used the USTR gathering to lead a large opposition rally, which included solar workers' marching toward the White House afterwards.
A day before the USTR hearing, SEIA also launched a six-step "America First" plan, which the group claims provides a blueprint for Trump to keep the solar industry growing and begins with rejecting solar import tariffs.
As previously reported, the ITC unanimously determined in September that imported crystalline silicon photovoltaic (CSPV) cells and modules have caused, or threatened to cause, "serious injury" to the domestic CSPV manufacturing industry. The commissioners later made a variety of trade remedy recommendations, including tariffs, quotas and import licenses, and sent them to the president in mid-November. The ITC recommendations are generally considered much lower than what Suniva and SolarWorld had requested, but SEIA has maintained that any tariffs on solar imports would cause serious harm to the industry.
In a statement about the USTR hearing, Abigail Ross Hopper, president and CEO of SEIA, said, "By the end of the day, the Trade Policy Staff Committee will be fully informed of what's at stake with this trade case. President Trump now must know that new tariffs would put tens of thousands of American workers out of jobs, including veterans and manufacturers. It is a fact – tariffs would harm our economy and national security and eliminate, not add, manufacturing facilities. This outcome would be inconsistent with an America First agenda."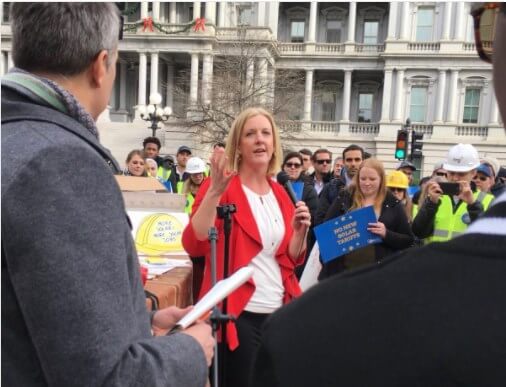 She added, "The decision is now the president's alone to make, and his choice could not be more clear: protect American workers, or side with foreign interests trying to exploit U.S trade law and decimate one of our nation's fastest-growing industries. We hope the USTR will convey these facts to the president and help him make a decision that puts America First by rejecting tariffs."
Similarly, the Energy Trade Action Coalition (ETAC), a group of companies, associations and organizations that joined together in July to oppose the trade petition, "urges the USTR to weigh in on the side of economic common sense and recommend that the president avoid remedies that will jeopardize the livelihoods of the 260,000 American workers employed today in the U.S. solar industry."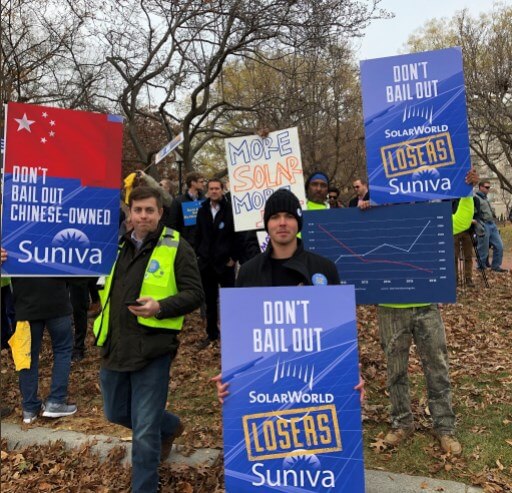 In a statement, ETAC said, "We hope the administration took note of the American workers who rallied outside of the USTR today in hopes of safeguarding the future of the high-tech economic engine responsible for creating one in every 50 new American jobs last year. The administration must choose wisely and avoid undermining the competitiveness of the thriving U.S. solar industry."
In his prepared testimony for the USTR hearing, Juergen Stein, CEO of SolarWorld Americas, called for "strong remedies," which "are intended to benefit the U.S. industry as a whole, not just one or two producers."
Stein reiterated SolarWorld and Suniva's request for import tariffs starting at $0.25/W per CSPV cell and $0.32/W per CSPV module, as well as import quotas starting at 0.22 GW for cells and 5.7 GW for modules.
"This will allow U.S. producers to rebound from the serious injury suffered from the import surge and make the necessary investments and expansions to improve their competitive position," he added. "A tariff-quota combination, along with funding, are essential to make this happen."
Interestingly, Stein suggested SolarWorld also "supports the idea of a licensing fee to provide funding to U.S. solar manufacturers," which SEIA and one ITC commissioner had proposed in lieu of tariffs. Nonetheless, the company is still seeking a combo of tariffs and quotas, with Stein saying, "Both remedies are necessary to allow the U.S. industry to ramp up quickly."
Furthermore, Stein said he wanted "to highlight one issue" he hopes the trade reps consider when evaluating the remedy proposals.
"The United States was the pioneer of solar manufacturing innovation. One example is passivated emitter rear contact (PERC) technology," he said. "SolarWorld developed this technology and was the first to industrialize it over the course of several years. But our competitive advantage was short-lived when SolarWorld's proprietary technology was stolen by state-run Chinese hackers who then provided that technology to Chinese producers who shifted into PERC production and began competing with our U.S. product. I testified on this matter earlier this year in the context of the Section 301 IP investigation."
He continued, "In closing, the president has the power to help bring the U.S. solar manufacturing industry back from the brink and, along with it, the thousands of American manufacturing jobs up and down the solar value chain that have been wiped out by foreign-subsidized imports. We believe that SolarWorld and Suniva's proposed remedies will do what it takes to ensure that the domestic industry can expand and innovate and succeed for years to come."
Like Stein, Matt Card, Suniva's executive vice president, called for stronger remedies than those proposed by the ITC; however, he also used harsher rhetoric and made some bold claims in his prepared testimony.
"When we initiated this process, we knew that this would be unpopular with those that have benefited from the targeted economic attacks of foreign governments against this vital U.S. manufacturing segment," said Card. "And indeed it has been: to the point that those opponents have willfully aligned with and aided those foreign governments, in an attempt to silence us.
"Thankfully, our laws are more powerful than those voices out to silence us," Card continued. "The process has proceeded, and the merits of our claims have been validated – unanimously. Unfortunately, the recommendations proposed by the commission are insufficient to remedy the serious injury to the domestic industry. As you are aware, the president's obligation is broader than that of the commission – he must recognize the importance of this industry to our national and energy security."
"While this is a global action, at the heart of the problem sits China, which, in a mercantilist fashion, set out to dominate the solar cell and module manufacturing industry," he said, later adding, "China's relentless attack has all but killed the U.S. cell and module manufacturing industry – almost 30 U.S. manufacturers have closed, laid off substantial portions of their workforce, or suffered extreme financial loss. My own company, Suniva, is in bankruptcy, as is SolarWorld's parent, and since this process started, another U.S. manufacturer, Stion, has announced it is closing its doors." Card said module supply chain partners, such as the U.S. polysilicon industry, have suffered from Chinese efforts, as well.
In his prepared testimony, Card also took aim at SEIA, the leading opponent to the Section 201 case.
"Yesterday, our opponents proposed a remedy preposterously entitled 'An America First Plan for Solar Energy,'" he said. "It should be lost on absolutely no one that SEIA's proposal relies solely on China and their proxies to supply the U.S. market. That is a strange, sad, definition of America First.
"Our opponent's core argument is that no trade remedies should be imposed, because remedies will devastate demand," he continued, arguing the ITC "categorically rejected SEIA's assertions."
"Claims that an increase in the cost of importing modules is going to kill demand have been sensationalized and historically proven to be wrong. However, what is really at stake for our opponents is not demand, but rather the market distortion that is the fruit of the poisoned tree of Chinese subsidies and IP theft."
According to Card, "strong remedies are exactly what are required."
"Unfortunately, right now, China is on the verge of winning their planned economic, energy and national security strategy for utterly destroying the U.S. solar manufacturing industry," he said in his prepared USTR testimony. "So yes, the issues you face here today are significant, they are important, and your voice matters – your actions will be fundamental in whether another U.S. manufacturing segment lives or dies. I would ask that you do your part in saving this industry."
In a Section 201 case, the decision regarding what, if any, trade actions to impose is ultimately up to the president. According to SEIA, Trump now has until Jan. 26 to make a decision on the case.
Photos of SEIA's Wednesday rally and march in Washington, D.C., are courtesy of the association's Twitter account