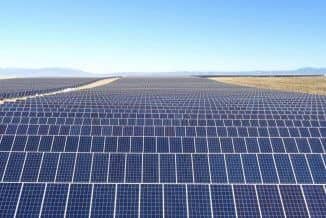 Albuquerque, N.M.-based solar tracker manufacturer Array Technologies Inc. has announced its expansion into Latin America, supported by a new office in Mexico City, Mexico. The company notes its latest international milestone comes on the heels of the 28-year-old company opening new office locations in Abu Dhabi, United Arab Emirates, and Sydney, Australia.
Array says the company's foray into Mexico follows a fundamental shift in the nation's energy consumption patterns. To fulfill its growing energy demand, Mexico has established ambitious goals and aims to generate 35% of the country's energy supply from renewable sources by 2024.
Array will serve the needs of the Mexican market with DuraTrack HZ v3, a single-axis solar tracker whose durability and engineered simplicity make it a perfect match for the diverse terrain and high temperatures experienced throughout the region, according to the company.
"As our trackers continue to operate failure-free, international solar asset owners are taking notice and making decisions accordingly," says Ron Corio, founder and CEO of Array Technologies. "Companies across the globe look forward to collaborating with a tried-and-true solar tracker provider."