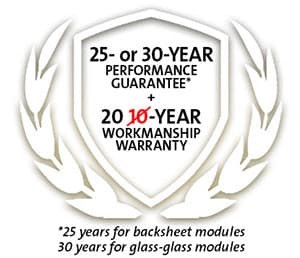 Module manufacturer SolarWorld has doubled the duration of its workmanship warranty on its entire portfolio of solar panel products to 20 years. With the improvement in consumer protection, the company says it is among the first major producers of solar panels featuring the PERC (passivated emitter rear contact) solar cell architecture to offer a product warranty of that length.
The extended product warranty, which protects owners of SolarWorld solar panels against defects attributable to production flaws, applies to all solar modules shipped after Jan. 1, 2017.
The extension comes on the 20th anniversary year of SolarWorld's 1997 establishment of its 25-year performance guarantee, which declined from 90% of nameplate power to 80% at 10 years. In 2009, the company was among the first to offer a 25-year linear guarantee, which provided better protection because the percentage of output protection declines by no more than 0.7 percentage points each year after the first year. In 2013, SolarWorld's Sunmodule Protect solar panel, which features glass on the front and back, was introduced with a 30-year linear guarantee, with annual degradation of no more than 0.35 percentage points.
"Over the decades, we have been able to take the lead in our product protections because we have the track record – the real-life data – to give us confidence in our products," says Shane Messer, U.S. vice president for sales and marketing for SolarWorld. "At every stage in production, we put quality first, and the investment has paid off over time."
Messer adds, "Consumers win because they can count on more protection for their own investment."
To view or download SolarWorld's warranty and guarantee policies, go here.