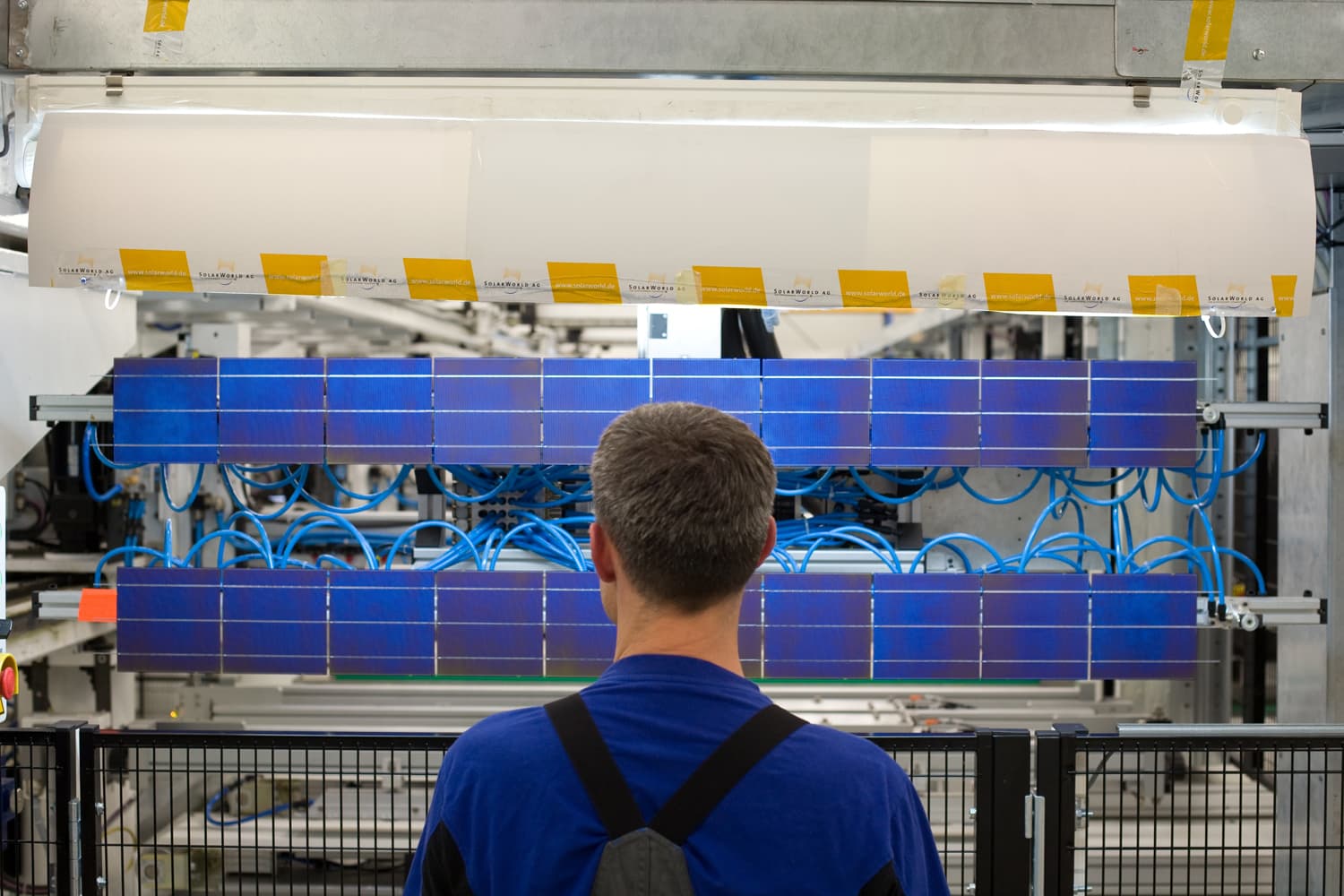 Germany-based panel maker SolarWorld AG has announced plans to stop production of the company's multicrystalline products, shift its manufacturing focus, and reduce its workforce. The company says the decision to streamline operations will strengthen its competitiveness amid global solar market challenges.
In fiscal year 2016, SolarWorld AG increased group-wide shipments by 19% year-over-year to 1,375 MW, and consolidated revenue rose by 5% to EUR 803 million. However, the company recorded a negative EBITDA in 2016, at EUR -26 million, including provisions amounting to EUR 12 million for measures to focus operating activities until 2019. Preliminary EBIT amounted to EUR -99 million. The company says this includes one-off effects from impairments on fixed assets amounting to EUR -25 million, which are not cash relevant. As of Dec. 31, 2016, SolarWorld had liquid funds of EUR 88 million.
In the course of 2017, SolarWorld AG says it is going to focus its business activities in such a way that the group will be able to successfully compete in a fast-changing market environment. With a bundle of measures, SolarWorld will concentrate entirely on the production and sale of products based on monocrystalline silicon technology and PERC (passivated emitter rear cell).
As such, the company will shut down the production of multicrystalline wafers, cells and modules, which SolarWorld says have lower efficiencies for technological reasons, over the course of 2017. The group's research and development subsidiary, SolarWorld Innovations GmbH, will focus on efficiency-enhancing processes that can be combined with PERC. Today, SolarWorld notes, the company already offers Bisun modules, which turn sunlight into power from the front and the back side and are a further development of PERC.
"Whoever buys SolarWorld shall get high efficiency – always," says Dr.-Ing. E. h. Frank Asbeck, CEO of SolarWorld AG. "We will compete successfully by focusing exclusively on innovative solar technology with the highest quality, longevity and efficiency."
The company says measures include plans to bundle steps of the value chain at individual sites: crystal growing and cell manufacturing in Arnstadt, Thuringia,  and wafering and module manufacturing in Freiberg, Saxony. Thus, the group says it can reach economies of scale faster, reduce redundancies, simplify processes and create room for future growth. The smaller production entities for modules in Arnstadt and for cells in Freiberg will be relocated. At its U.S. site in Hillsboro, Ore., SolarWorld is already exclusively producing PERC cells and modules, the company notes.
SolarWorld says these measures will lead to lower expenses for production, sales and overhead, as well as a staff reduction of about 400 by 2019. In parallel, the company says it is going to invest a mid-double-digit-million amount in the continuous expansion and the improvement of its high-efficiency technologies.
"These measures will decrease costs and increase efficiency significantly," states Asbeck. "Our aim is to come out of the difficult phase for the solar market stronger than before and to raise module shipments to about 2 GW by 2019."
On the assumption that the solar market will remain fiercely competitive, but will not be subject to extreme price reductions, the company says it expects its EBIT in 2017 to rise compared with 2016, although it will still be negative. 2017 shipments are expected to grow, and consolidated revenue should lie at approximately previous year's level, SolarWorld adds.
Although the global solar industry had a record-breaking year in 2016, SolarWorld is one among several solar companies, including Enphase Energy and SunPower, that have streamlined their operations to counteract market challenges, such as price pressure from module oversupply and policy uncertainty.
Photo of factory worker courtesy of SolarWorld AG