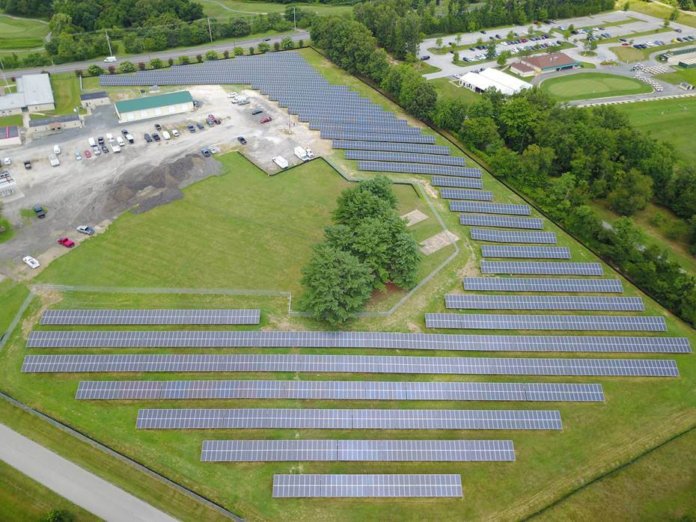 Standard Solar has completed a 1.4 MW ground-mount solar project for Anne Arundel County Public Schools (AACPS), the fifth largest public school district in Maryland with a student population of approximately 82,000 students. The AACPS portfolio consists of 125 schools and nine administrative buildings. Standard Solar developed and constructed the project on six acres of AACPS-owned land at the Fort Smallwood Facilities complex in Pasadena, Md.
AACPS adopted a sustainability policy in 2013 that officially defined its green initiatives. Already, 68 of the county's 125 school facilities are Maryland Green School awardees. The solar project, financed by Standard Solar through a long-term power purchase agreement, features nearly 4,000 panels that will produce 1,971 MWh of electricity annually.
AACPS has an aggressive 20% reduction goal in energy use intensity over 10 years with a 2011 baseline as part of its  commitment to the Better Buildings Challenge and dedication to the energy efficiency of district buildings.
"We have more than 13.4 million square feet of facility space and a $26 million utility budget. It is essential that we reduce our energy consumption, explore renewable energy, and be efficient with our energy use," says AACPS Superintendent of Schools Dr. George Arlotto.
"This was a particularly special project for Standard Solar. First, for our team's ability to overcome complex site configuration challenges, and second, because it marks one of the first solar projects financed internally by Standard Solar," explains Scott Wiater, president and CEO of Standard Solar. "This partnership with AACPS is a clear example of how school systems, counties, municipalities and more can benefit from solar and its resulting cost savings through taking advantage of smart financing."
Standard Solar will own, operate and maintain the system.