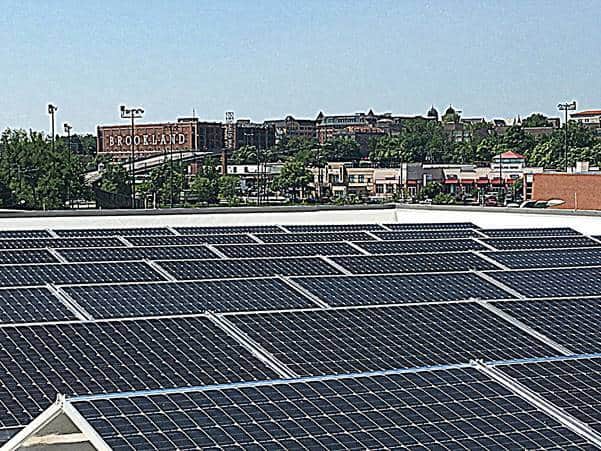 Rooftops of 28 Washington, D.C., schools, educational buildings, police and fire facilities are now producing a total of about 7 MW of solar energy, according to Standard Solar Inc.
The Maryland-based installer has marked the completion of 28 of 30 solar rooftop arrays for the D.C. Department of General Services (DGS), whose solar program will boost the district's total solar generation capacity by approximately 70% from 2015. Nextility, a local energy technology company, and Sol Systems, a solar finance and development firm, secured the power purchase agreement (PPA) and financing for the projects and partnered with Standard Solar to manage delivery of the portfolio.
One of the largest urban solar endeavors in the U.S., installation of the arrays created more than 140 local green jobs during planning and construction, as well as permanent jobs for the operations and maintenance of the arrays, according to Standard Solar. These projects add to the district's commitment to renewable energy and sustainability.
In a 2015 announcement, Mayor Muriel Bowser explained, "This PPA doubles down on my administration's commitment to renewable energy and sustainability – using district government assets as staging grounds to capture the sun's energy and power our building portfolio." The mayor added, "Beyond renewable energy and cost savings, this project will elevate the district's local economy, spur small-business development and create jobs."
More recently, in 2016, Bowser signed a law that increases the district's renewable portfolio standard from 20% by 2020 to 50% by 2032 – with a 5% solar carve-out.
According to Standard Solar, the rooftop solar systems for this group will produce approximately 7,800 MWh of electricity each year, serving about 3% of the DGS portfolio's total annual electricity needs and reducing the peak summer demand. On average for the buildings with solar, approximately 20% of their electricity consumption will be met by the new on-site rooftop generation.
"This project has been significant on many levels – from the number of rooftop installs in an urban environment to a growing partnership with D.C., whose renewable energy efforts are a model for cities around the country," says Tony Clifford, chief development officer of Standard Solar. "DGS is showing true leadership. As a Washingtonian, I know how important these projects are for the district's local economy, and we commend and celebrate the D.C. government for their dedication to becoming a green city."