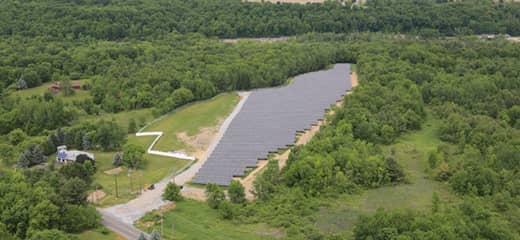 The New York State Energy Research and Development Authority (NYSERDA) and developer EnterSolar have announced the completion of a 1.85 MW solar installation designed to offset up to 75% of the power used by 17 Stewart's Shops locations in Upstate New York. The project, which uses remote net metering, was built offsite in Halfmoon and supported by almost $1 million in funding from Gov. Andrew M. Cuomo's NY-Sun initiative.
John B. Rhodes, president and CEO of NYSERDA, says, "Under Governor Cuomo's NY-Sun initiative, the state is making renewable energy an easy and affordable choice for both businesses and homeowners."
According to NYSERDA, NY-Sun has accelerated the growth of solar across the state, with the amount of solar power installed and in development under the initiative increasing 575% from 2012 through 2015.
"We are pleased to complete this, our second initiative with Stewart's Shops," comments Paul Ahern, president of EnterSolar. "They are a true partner that recognizes the financial, as well as environmental benefit, of capturing the power of renewable energy. Knowing that solar energy will keep Stewart's Shops ice cream cold all summer just makes the project that much sweeter."
In 2013, NYSERDA, EnterSolar and Stewart's Shops announced the installation of a 600 kW system atop Stewart's 300,000-square-foot manufacturing and distribution center in Greenfield Center. NYSERDA says the installation saves Stewart's Shops approximately $40,000 a year in energy costs and offers environmental benefits the equivalent to taking 80 cars off the road.
"Just as we have a commitment to giving back to our communities, we are committed to making our communities greener," states Nancy Trimbur, senior vice president at Stewart's Shops. "We're happy to partner once again with EnterSolar and their efforts in encouraging sustainable energy practices. The solar project they completed at our Greenfield plant in 2013 has been a shining success, and the future looks bright for this latest opportunity to be more eco-friendly."