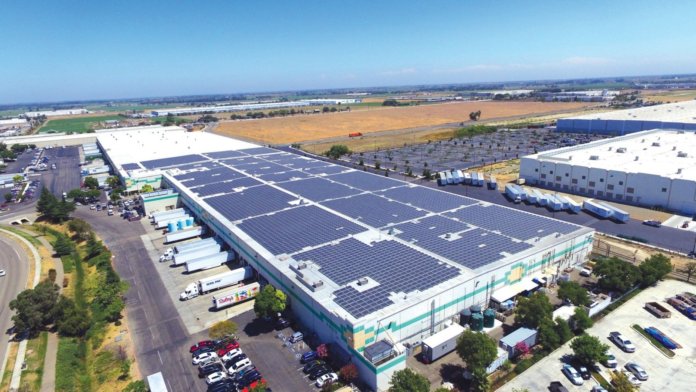 Taylor Farms, a North American producer of salads and healthy fresh foods, has completed the company's largest solar panel installation to date. Located at Taylor Farms Pacific in Tracy, Calif, the new rooftop solar array spans over 300,000 square feet and comprises more than 8,200 panels. The 2.26 MW project is expected to power 67% of the facility's energy needs.
"I am thrilled to see yet another one of our sustainability projects come to fruition, and this is one of our most exciting projects to date," says Nicole Flewell, director of sustainability at Taylor Farms. "With each installation, whether solar, wind or cogeneration, we continue to add clean power to our facilities nationwide in the most sustainable manner possible."
Taylor Farms says it has dedicated sustainability resources to determine the best energy strategy for each of its locations and pursue localized incentives to make projects economically viable. Since 2012, Taylor Farms has invested in eight major projects in North America, including, solar, wind, fuel cells and cogeneration. The company has installed solar arrays at several facilities in Texas, Tennessee and in California.
Taylor Farms Pacific, which employs over 1,300 team members in Tracy, serves customers in the retail and deli markets with a variety of fresh food products.
"This is a wonderful achievement for Taylor Farms' sustainability program," says Tracy Mayor Robert Rickman. "We're excited about not only the innovation that Taylor Farms is bringing to the city of Tracy, but what's to come with our partnership."