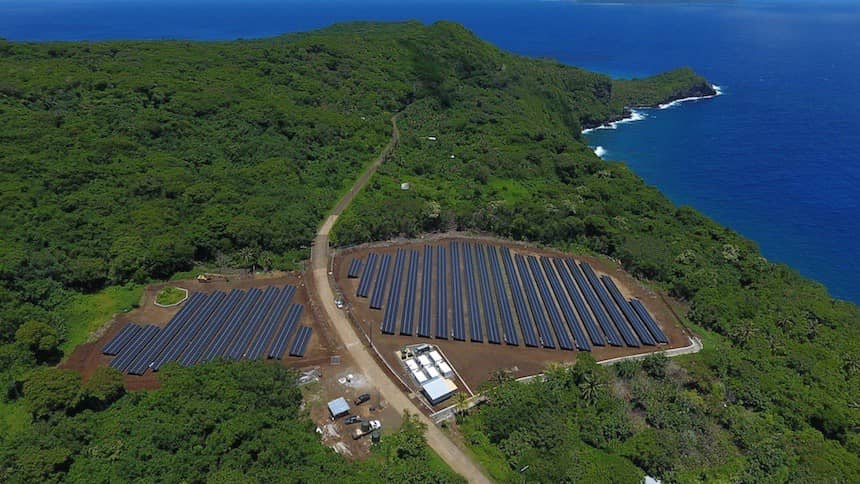 Tesla's acquisition of SolarCity officially closed on Monday, and now the merged companies are showing off what a merger of solar power and energy storage can do – power an entire island.
A new SolarCity blog post highlights a microgrid project completed on Ta'u, an island in the U.S. territory of American Samoa, that can supply almost 100% of the island's power needs using solar power.
According to the blog, the Tesla/SolarCity microgrid combines over 5,300 solar panels totaling 1.4 MW with 60 Tesla Powerpacks totaling 6 MWh of energy storage. Although the blog does not specify when the project was completed, it says the microgrid took "just one year from start to finish." The project received federal funding and is operated by the American Samoa Power Authority.
Like many other remote islands, Ta'u has relied mostly on diesel generators for power, but as the blog points out, diesel is an expensive and dirty fossil fuel, and maintaining reliable power using such generators can be a challenge, especially since diesel needs to be shipped to the island and might need to be rationed. By providing solar day and night, the on-island microgrid is expected to offset the need for about 110,000 gallons of diesel fuel annually, and it can power the island for three whole days without sun. The blog calls the microgrid "life changing for residents of Ta'u" and cites Keith Ahsoon, an island native who has a family-owned food store on Ta'u.
"I recall a time they weren't able to get the boat out here for two months," says Ahsoon. "We rely on that boat for everything, including importing diesel for the generators for all of our electricity. Once diesel gets low, we try to save it by using it only for mornings and afternoons. Water systems here also use pumps, everyone in the village uses and depends on that. It's hard to live not knowing what's going to happen. I remember growing up using candlelight."
Regarding the new microgrid, Ahsoon says, "It's always sunny out here, and harvesting that energy from the sun will make me sleep a lot more comfortably at night, just knowing I'll be able to serve my customers."
The blog also suggests that the official combination of Tesla and SolarCity could lead to similar projects.
"Ta'u is not a postcard from the future; it's a snapshot of what is possible right now," the blog says. "Renewable power is an economical, practical solution for a growing number of locations and energy needs, and islands that have traditionally relied on fossil fuels can easily transition to microgrids powered by solar and storage today."
In the lead-up to the close of the Tesla/SolarCity deal, Elon Musk stated several times that the integration of solar and energy storage was a main goal behind the Tesla acquisition. At a joint launch event, the entrepreneur also presented new solar roofs for homes and Tesla's next-generation energy storage products.
Photo courtesy of SolarCity