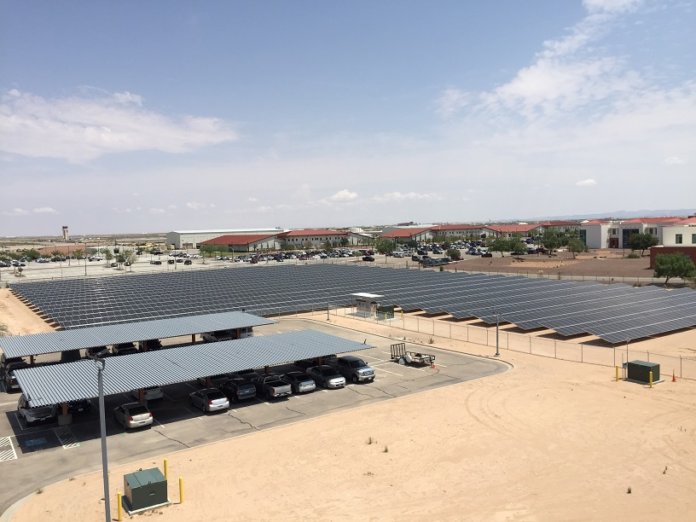 Ameresco Inc., an energy efficiency and energy infrastructure company, has completed a 2.5 MW solar energy system for the U.S. Drug Enforcement Administration (DEA) at the El Paso Intelligence Center, located on Fort Bliss in El Paso, Texas.
Ameresco and DEA officials celebrated the new ground-mount solar facility at a ceremonial "flip the switch" event this week.
"Ameresco applauds the leadership and vision of the DEA and the El Paso Intelligence Center as we celebrate the operation of this new solar system," says Nicole A. Bulgarino, executive vice president and general manager of federal solutions at Ameresco. "We are proud to be a partner to the DEA on the agency's first renewable energy system."
Owned and operated by Ameresco, the system comprises two on-site PV arrays. More than 7,340 solar panels were installed during 9,000 hours of project construction, the company says.
Providing power for the DEA, the solar facility will reduce electricity costs, provide long-term electric pricing stability and reduce carbon emissions by more than 3,400 metric tons annually.
The DEA contracted with Ameresco in September 2017 under an Energy Savings Performance Contract (ESPC) through the U.S. Department of Energy's (DOE) ESPC ENABLE program. The contract with Ameresco was uniquely structured to capture the financial benefits of the solar investment tax credit through an energy sales agreement within the traditional ESPC. The DOE's Federal Energy Management Program provided technical support for project development, including grant funding through the Assisting Federal Facilities with Energy Conservation Technologies program.
The solar system is the DEA's first renewable energy project, notes Ameresco.