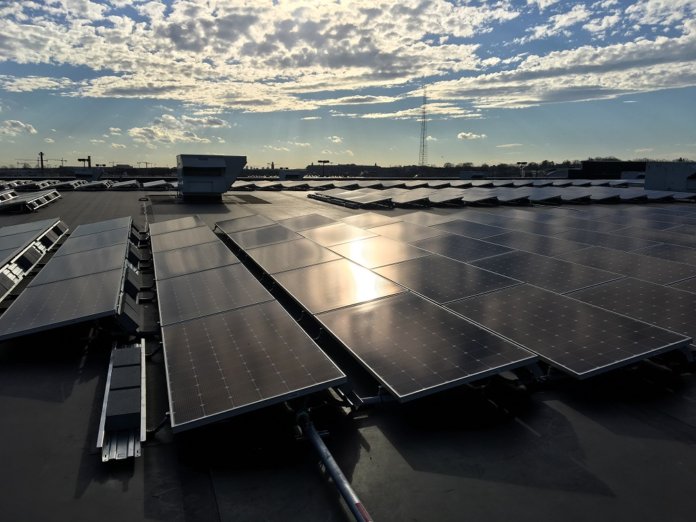 GE and Constellation, an Exelon company, have announced the completion of a 554 kW DC solar generation project for The Home Depot's Washington, D.C., store.
The solar facility, now the largest single rooftop array in D.C., according to Energy Acuity data, is expected to supply more than 9.9 million kWh of electricity to The Home Depot over a 15-year period, accounting for an anticipated 35%-40% of the store's annual energy use.
The Home Depot will purchase the electricity generated by the system through a 15-year power purchase agreement with Constellation. GE's solar development team designed the project, led the construction process, and will be responsible for operations and maintenance over the duration of the contract.
The solar system – comprising more than 1,400 LG photovoltaic panels – is expected to avoid more than 7,300 metric tons of carbon-dioxide during its lifetime.
"As the leading home improvement retailer, The Home Depot is proud to host the largest single rooftop solar project in the district," says Craig D'Arcy, director of energy management for The Home Depot. "We thank Constellation and GE for their collaboration as we take another big step toward our commitment to increase support for alternative energy projects."
For Constellation, the Home Depot project — located in the Brentwood neighborhood in northeast D.C. — is part of 7 MW of solar generation Exelon has committed to install in the district through its merger with Pepco Holdings Inc. in 2015. It is also the first of multiple Constellation-owned, GE-developed rooftop arrays for The Home Depot, which will feature solar on additional stores in Prince George's and Montgomery counties in Maryland by the end of this year.
For The Home Depot, the D.C. project is the latest of 50 planned rooftop solar projects that the company is undertaking to reach its goal of using 135 MW of alternative and renewable energy by 2020.