A new report from the N.C. Clean Energy Technology Center (NCCETC) finds that 42 states and the District of Columbia took some type of distributed solar policy action in the second quarter of this year.
NCCETC, part of the College of Engineering at North Carolina State University, says a total of 148 distributed solar policy actions were taken during Q2 2018. The greatest number of actions were taken in California, Arizona, New York, Virginia and Massachusetts.
According to the report, The 50 States of Solar, the greatest number of actions related to residential fixed charge or minimum bill increases, net metering policies and community solar policies: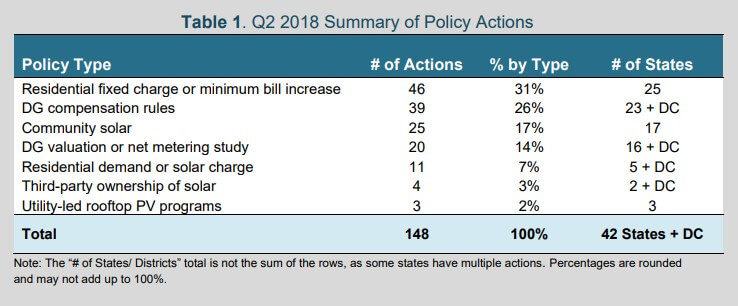 The report identifies three trends in solar policy activity taken in Q2 2018: (1) states working to increase low-income customer participation in community solar programs; (2) state legislatures considering bills effectively undoing or amending regulatory decisions; and (3) regulators approving residential fixed charge reductions. NCCETC says regulators in three states approved residential fixed charge decreases in Q2 2018 – representing a notable departure from previous quarters.
"Many of the solar policy and rate design decisions being made continue to be quite controversial," notes Autumn Proudlove, lead author of the report and senior manager of policy research at NCCETC. "We're finding that a number of state legislatures are taking up these issues and considering changes that would effectively reverse or significantly amend recent decisions made by state regulators."
The report names the top five policy developments of the quarter:
Connecticut became the latest state to move away from net metering;
The New Jersey legislature adopted a statewide community solar policy;
The Florida Public Service Commission opened the door to residential solar leasing;
Idaho regulators approved Idaho Power's request to separate distributed generation customers into a unique class; and
Colorado, Connecticut and New York regulators approved residential fixed charge reductions.
"As the conversation matures and some states reach agreement on broad solar policies, we're seeing states fine-tune their established frameworks to seek more inclusion," says Brian Lips, senior policy project manager at NCCETC. "A number of states are examining ways to improve solar access for low-income customers, particularly through community solar programs."