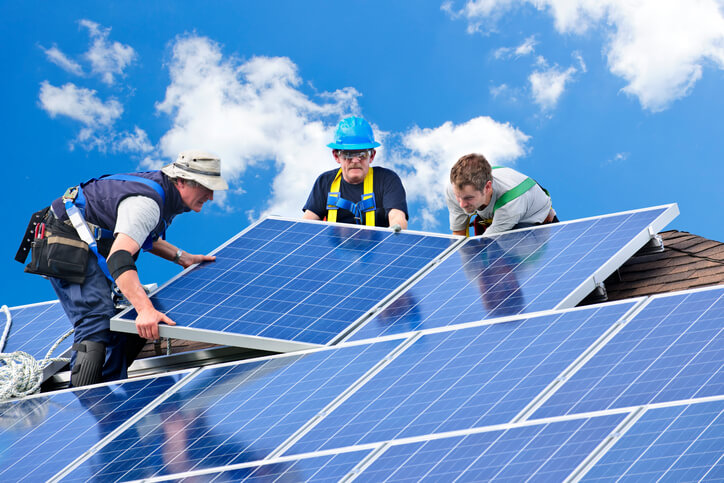 Forty-one states and the District of Columbia took some form of action on distributed solar policy and rate design changes in the third quarter of this year (Q3'17), according to the N.C. Clean Energy Technology Center's (NCCETC) latest edition of its "50 States of Solar" report. In addition to tallying all of the actions taken across the country, the report also offers what the NCCETC considers the top five distributed solar policy developments of the quarter.
Overall, the report finds the following occurred during the quarter:
44 utility requests in 26 states plus D.C. to increase monthly fixed charges or minimum bills on all residential customers by at least 10% were pending or decided;
24 states considered or enacted changes to net energy metering (NEM) policies;
19 states plus D.C. formally examined or resolved to examine some element of the value of distributed generation or the costs and benefits of NEM;
13 states took policy action on community solar;
14 utility requests in seven states to add new or increase existing charges specific to rooftop solar customers were pending or decided;
five states had action on utility-owned rooftop solar policies or programs; and
one state had policy action on third-party solar ownership laws or regulations.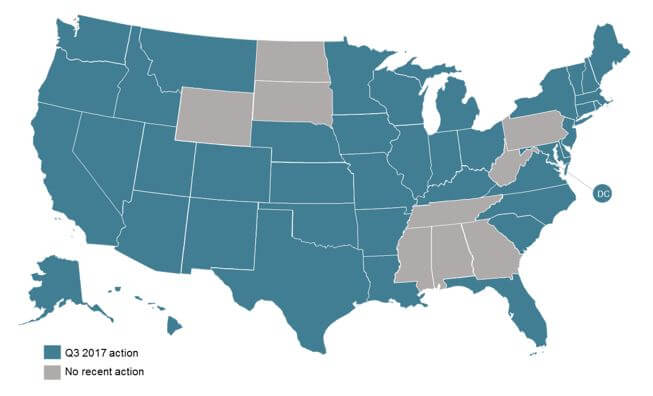 According to the report, utilities in more than half of U.S. states had pending proposals to increase residential fixed charges by at least 10% during Q3'17, with 11 utilities proposing new fixed charge increases during the quarter. Regulatory commissions in eight states issued decisions on requests to increase residential fixed charges, granting only one utility its full requested increase.
The report adds that distributed solar compensation discussions continue to spread to new states, with at least 17 states considering changes to NEM credit rates during the quarter. Six states also took action related to credit rates for community solar projects.
"More states are adopting community solar policies," says Achyut Shrestha, senior policy analyst at NCCETC. "However, we're also seeing some states move away from retail rate credits for community solar programs and take unique approaches to credit structures, from crediting at avoided cost to adopting adders for low-income participants."
A total of 142 state- and utility-level distributed solar policy and rate changes were proposed, pending or enacted in Q3'17. The report also notes the following top five policy developments of the quarter:
NV Energy Submits Proposal to Implement A.B.405 NEM Changes
After utility regulators terminated retail-rate NEM in 2015, the Nevada legislature restored it with A.B.405, which the governor signed in June 2017. The Public Utilities Commission of Nevada held expedited proceedings to implement the policy changes. In its July filing, utility NV Energy presented tariffs that represented net billing, rather than net metering, and proposed an increase in the fixed charge for all residential customers. In a September decision, the commission rejected NV Energy's tariffs, arguing that the plain language of A.B.405 requires a return to traditional NEM, which utilizes a monthly netting period.
Utah's Rocky Mountain Power Begins Transition Away from NEM
In September, the Utah Public Service Commission approved a settlement agreement ending retail-rate NEM for new DG customers starting Nov. 15. A transition program with a reduced export credit rate will begin for new DG customers at this time, until a more permanent export credit rate is determined through an in-depth proceeding. The export credit proceeding is expected to conclude within three years, the report notes.
Kansas Regulators Make DG Policy Determination
The Kansas Corporation Commission approved a settlement in September, making a general determination that residential DG customer rates should be cost-based and not include any unquantifiable benefits. The commission also noted that it is appropriate to create a separate customer class for DG customers and apply demand or DG capacity based charges. However, the report adds, any changes to tariffs will take place in utility-specific filings.
Idaho Power Requests a Separate Customer Class for DG Customers
In July, Idaho Power filed a proposal to separate new residential and general service customers with on-site generation into unique customer classes. According to the report, Idaho Power is not currently proposing any rate changes for these customers, but the utility requested that a generic docket be opened to develop a new compensation structure for customer-sited distributed energy resources (DER). The report says Idaho is one of five states without statewide NEM or other DER compensation rules.
Illinois Begins Implementation of Community Solar Program
Pursuant to the Future Energy Jobs Act, the Illinois Power Agency published a draft version of its Long-Term Renewable Resources Procurement plan in September, while utilities filed proposed community net metering tariffs. The report says the new tariffs compensate participants at the retail electric supply rate, but do not include transmission and distribution components. The draft plan includes funding for a low-income community solar incentive program and a competitive bidding program for low-income community solar pilot projects, the report adds.
"Many states are taking an incremental approach to net metering and other solar policy changes," says Autumn Proudlove, lead author of the report and manager of policy research at NCCETC. "These states are adopting smaller changes while continuing to consider broader reforms, as well as phasing in credit rate adjustments and implementing pilot programs in order to test new designs and introduce these concepts to customers."
More information about the report can be found here.