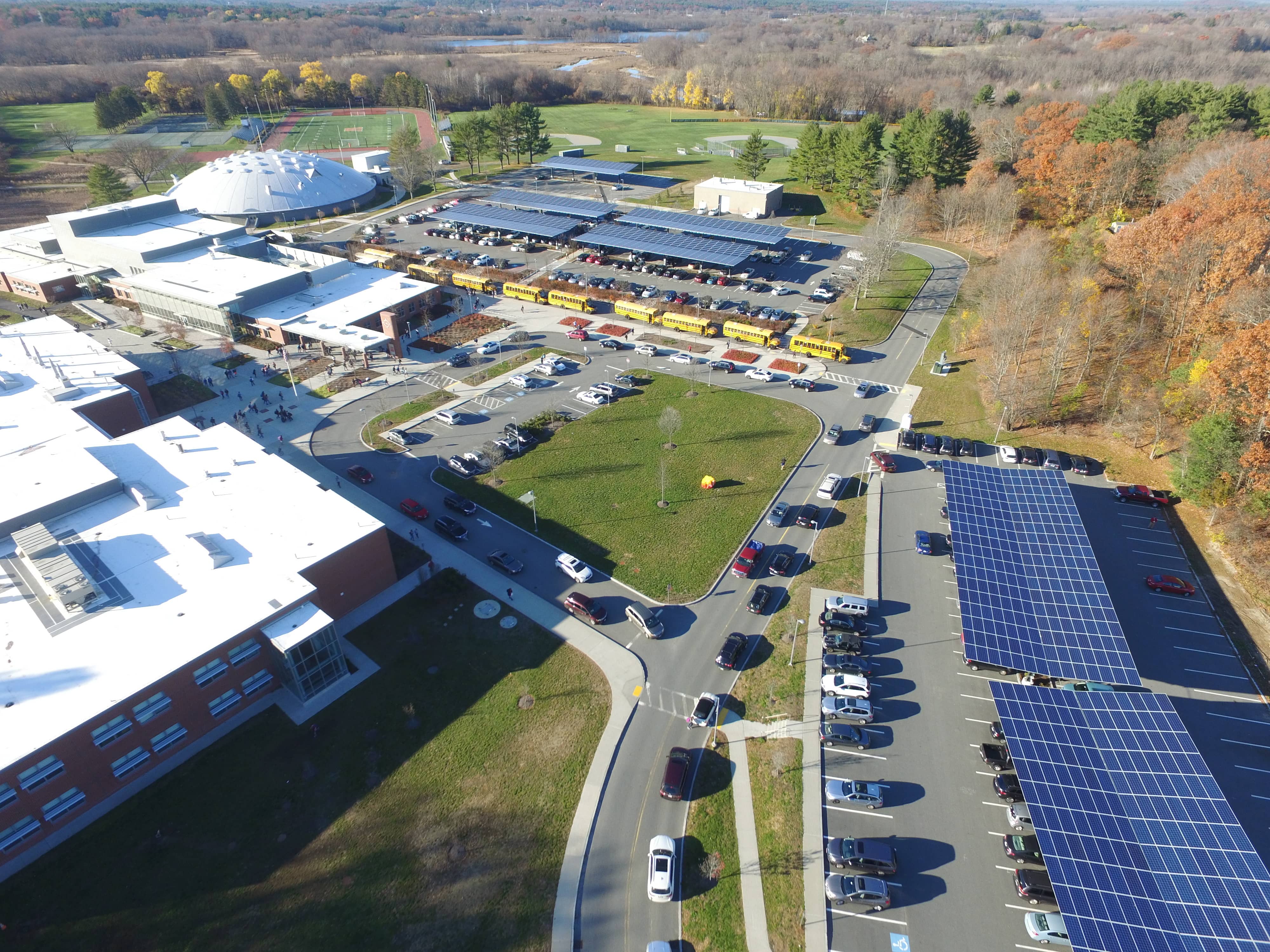 Ameresco Inc., an energy efficiency and renewable energy company, and the Town of Wayland, Mass., recently dedicated the town's four completed solar projects totaling almost 1.3 MW.
Ameresco says Wayland's solar arrays total 4,214 photovoltaic panels and are designed to generate over 1.5 million kWh of renewable electricity each year. Collectively, the three solar canopies at the high school, middle school and Town Building, in addition to a rooftop system at the Department of Public Works building, are expected to generate enough electricity to offset roughly 25% of the town's municipal electric needs and generate a financial savings of over $100,000 per year for Wayland. In addition, the solar arrays represent an important contribution to Wayland's continuing efforts to mitigate greenhouse-gas emissions.
"We are thrilled that the solar systems are up and running. The community has watched the construction with great anticipation," remarked Cherry Karslon, chair of the town's board of selectman, at a dedication event last week.
"With the passage of the Green Communities Act of 2008, the commonwealth established an opportunity for municipalities to blaze a new path in the clean energy field. Wayland was one of our earliest designations as a Green Community, and I am pleased to see the town utilize the powerful opportunity provided by an energy management services program," added Dan Knapik, director of the Green Communities division at the Massachusetts Department of Energy Resources. "With their partner, Ameresco, the town will not only be generating clean renewable solar energy from an innovative project, they will also experience a significant guaranteed financial savings."
"We are delighted to have worked with the Town of Wayland and its dedicated volunteers on the energy committee to realize their vision for creating a sustainable community," added Jim Walker, vice president of solar at Ameresco. "Our solar photovoltaic projects on schools, municipal buildings and parking lot canopies are a source of pride within the community. Even better, the sustainable energy projects deliver electricity cost savings to support other municipal and school budget priorities."