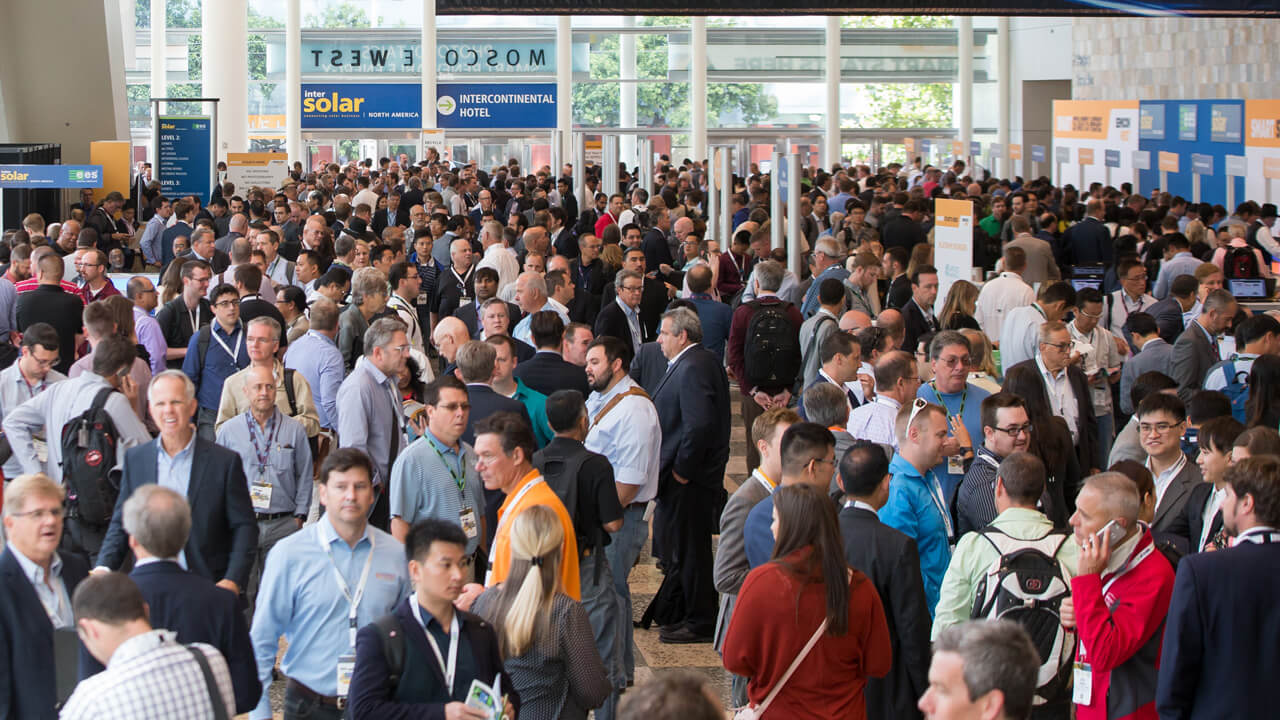 Solar conferences and exhibitions always offer a prime opportunity to gauge what's top of mind for industry players, and during last week's Intersolar North America event in San Francisco, it didn't take very long to figure out the issue many people were talking about on the exhibit floor – the controversial trade case.
Following a Section 201 petition from bankrupt PV manufacturer Suniva, the U.S. International Trade Commission (ITC) is currently investigating whether crystalline silicon photovoltaic (CSPV) imports are causing "serious injury" to domestic manufacturers and, if so, whether to implement new trade tariffs. Only if the ITC finds injury during its probe would the agency make a remedy recommendation to President Donald Trump, who would have the final say.
In its petition, Suniva proposed an initial import tariff of $0.40/W per CSPV cell and a minimum import price of $0.78/W per CSPV module. SolarWorld Americas later joined the case as a co-petitioner but has yet to propose its own potential trade tariffs. Both companies argue that cheap imports into the U.S., namely from Chinese-owned companies, make it difficult to compete.
Last year, SolarWorld Americas had a massive booth at the Intersolar North America show, and it was noticeably absent at the 2017 event. Rather, the Oregon-based manufacturer issued a press release about a cash infusion last Wednesday and provided details about a mass layoff.
During Intersolar last week, Ryan Collins, solar sales manager of LG Electronics USA, aptly called the trade case "the elephant in the room."
Notably, though, not a lot of show attendees surveyed for this article were willing to go on the record about their thoughts on the case; however, nearly all of them anonymously voiced opposition and concern, with one solar stakeholder using the word "absurd" and another using the word "frightening" when describing the case.
Nonetheless, some industry players were willing to go on the record.
For example, LG's Collins didn't provide an official stance on the case, but because the company's modules are manufactured in South Korea and the Section 201 petition would impose U.S. import trade measures globally, he acknowledged that the outcome "certainly has a chance to impact us." Collins noted that the ITC ruling remains uncertain, so LG is currently "conducting business as usual and staying optimistic."
Paul Nahi, president and CEO of California-based micro-inverter specialist Enphase Energy, said, "There is a certain inevitability of the solar industry – you couldn't stop it even if you wanted to. But you could hurt it." He suggested the proposed trade measures would "diminish" demand across all solar sectors, especially the residential one.
Furthermore, Nahi said he strongly advocates competition and believes the Section 201 trade actions would hinder the free market.
Nahi is no stranger to the challenges of market competition, either. Last year, Enphase Energy made two rounds of layoffs, and at the time, he explained, "The micro-inverter market, just like the rest of the solar industry, is under extreme price pressure."
At Intersolar, Nahi said the workforce reduction was an unfortunate, but necessary, decision to make. "It's the worst part of management," he stated. However, he expects that streamlining Enphase's business, reducing costs, and focusing on continued product innovation will help the company remain competitive amid the global solar market's low-price environment.
In addition to serving as CEO of California-based solar tracker company NEXTracker, Dan Shugar is also a board member of Advanced Energy Economy, The Solar Foundation, and the Solar Energy Industries Association (SEIA), a leading opponent of the Section 201 case.
Shugar said he supports SEIA's position, calling the Section 201 case "very unfortunate" and charging the petition is "exploiting U.S. trade policies" and "putting thousands of jobs at risk."
Regarding whether he believes the Section 201 petition will prevail, Shugar stated, "I'm not in the crystal ball business." However, he hopes "cool minds will prevail" and the ITC will make "an informed decision" recognizing solar is an economic engine that creates jobs. "Solar is a hands-down winner," Shugar said.
Although PV module provider Boviet Solar USA is headquartered in California, the company is a subsidiary of China-based Powerway Group and manufactures its modules in Vietnam. Therefore, Boviet Solar USA's products would likely be subject to the Section 201 trade tariffs.
John Bereckis, president of Boviet Solar USA's module division, said, "Technically, everyone would get hit. It would hurt the market and reduce jobs in the beginning. Projects would fall through."
Bereckis said he personally filled out a 100+ page ITC questionnaire and filed it as part of the agency's Section 201 investigation. Interestingly, though, he would not state whether Boviet officially supports or opposes the petition and provided mixed signals.
"We don't see it as detrimental to Boviet – we're not going anywhere – but somewhat to the industry overall," he said. "Obviously, no one wants the industry to take three steps back when it's moving forward."
Nevertheless, Bereckis predicted the solar market would "reset" and stabilize over time. In fact, he claimed trade measures might even provide "opportunity" because "everyone would be on the same playing field" and might focus more on module quality over pricing. In addition, he said the industry would be forced to get creative to make project economics pencil out.
As for the case's potential outcome, he said, "It's all speculation. We'll know more during the upcoming ITC hearings." Meanwhile, he said, "It's like blood in the water – everyone wants to buy up modules before this happens."
If the ITC advances the case and hands it to Trump, Bereckis noted, "The president can do whatever he wants. Do I think he'd slam the door on other countries? No. I hope he looks at the solar market as a whole, sees why some companies fail and realizes this won't create new jobs."
As previously mentioned, SEIA is leading the fight against the Section 201 petition. When informed that nearly everyone at Intersolar seemed to be discussing the trade case and its potential impacts, Abigail Ross Hopper, SEIA's president and CEO, said she was encouraged to learn that the organization's message was getting out.
"When the Section 201 petition was first filed, we came out strongly against it immediately, and as the weeks go by, the reality has sunk in and companies know what could be on the horizon," she said.
Indeed, opposition is mounting. For example, just days before the Intersolar show kicked off, Tom Werner, president and CEO of SunPower, wrote an op-ed in the Huffington Post against the trade case. Prior to that, the U.S.-based vertically integrated solar company had not taken a public stance on the petition.
"We've been calling on our members to take action," said Hopper. She noted that SEIA webinars providing guidance on the ITC questionnaires before the documents were due at the end of June had "robust participation."
Hopper said SEIA is working hard to present its case to the ITC and prevent the agency from finding injury. The ITC is scheduled to hold a hearing in August and make its injury determination by Sept. 22. If the agency doesn't find injury, Hopper explained, "That's it – the case wouldn't go any further."
"We're trying to keep the issue from getting to Trump's desk," she added. "That's why we're asking people to write their legislators, had companies fill in the ITC questionnaires, are putting together witnesses for the upcoming ITC hearing, and having experts conduct further analysis of the job impacts."
She said, "The industry isn't just solar panels; we're a wide market, a commodity, and we're working to ensure the ITC understands that."
"All industries go through appropriate maturation," Hopper continued. "SEIA supports a fair and free market. Capitalism is all about competition."
To learn more details about the Section 201 case, including Suniva's and SolarWorld's stances, check out an article from Solar Industry's July issue here.
Photo courtesy of Solar Promotion International GmbH