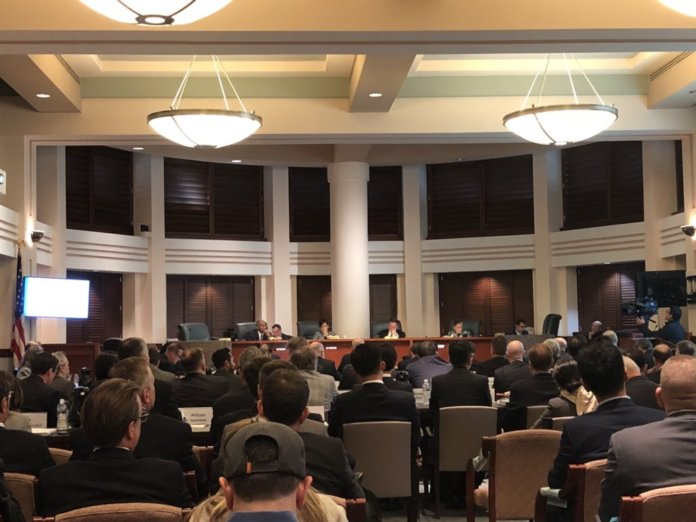 Shortly after deciding to advance the Section 201 trade case, the U.S. International Trade Commission (ITC) held a public hearing in Washington, D.C., on Tuesday to help determine what remedy it might propose to President Donald Trump.
Various solar stakeholders, including lead case opponent Solar Energy Industries Association (SEIA) and co-petitioners Suniva and SolarWorld Americas, presented their testimony and recommendations to the commission. According to an ITC witness list, other notable attendees included foreign embassy officials and U.S. lawmakers.
In a unanimous 4-0 vote on Sept. 22, the ITC found that imported crystalline silicon photovoltaic (CSPV) cells and modules have caused, or threatened to cause, "serious injury" to the domestic CSPV manufacturing industry. The decision advanced the case from the injury phase to the remedy phase, and all interested parties had to file pre-hearing briefs last week before Tuesday's meeting.
Interestingly, Suniva and SolarWorld Americas revised their proposed remedies in their pre-briefings. In an announcement, the co-petitioners explained the changes came after they were "able to review pricing data provided by the commission not initially available" when first launching the trade case.
Both co-petitioners are now requesting an import tariff of $0.25/W per CSPV cell – a decrease from Suniva's initial $0.40/W proposal – and a tariff of $0.32/W per CSPV module in year one. The tariffs would decline slightly over the four-year relief period afforded under a Section 201 case.
Furthermore, Suniva has decided to revise its requested minimum import price (MIP) of $0.78/W per CSPV module to $0.74/W in year one, with the MIP also gradually declining over the four-year period.
Rather than an MIP, though, SolarWorld has proposed an import quota starting at 0.22 GW for CSPV cells and 5.7 GW for CSPV modules. According to SolarWorld, the temporary quota would be "liberalized" during the four-year relief period.
Regardless, an announcement noted, "Both co-petitioners agree that an effective remedy must include either the co-petitioners' requested tariff plus Suniva's requested module floor price or the co-petitioners' requested tariff plus SolarWorld's requested quota."
Echoing previous arguments, SEIA and other case opponents claimed on Tuesday that the co-petitioners' requested trade actions could kill thousands of U.S. solar jobs, while Suniva and SolarWorld claimed their proposals would ultimately lead to job creation.
For its part, SEIA has proposed a solution meant to provide both technical and direct financial assistance to U.S. CSPV cell and panel manufacturers, according to a Tuesday press release from the group. In the release, SEIA said its proposal uses Section 1102 of the trade law, in combination with Section 201, to allow the ITC to recommend that the president create a license fee system to import CSPV cells and modules. Instead of going to the U.S. Treasury, revenue from the fees would come from foreign manufacturers and be delivered directly to U.S. manufacturers, the group added.
Case advocates
In his prepared testimony for Tuesday's ITC hearing, Matt Card, Suniva's executive vice president of commercial operations, said, "First, I want to share my sincere appreciation for the strong and unanimous decision that the commission has made. While I am deeply grateful for this decision, to characterize my feelings as happiness would not be accurate. There is nothing happy about where we are today."
"But," he added, "if the remedy is not effective enough to heal the injury, then there will be no new factories, no job growth, and your injury finding will be moot – almost 30 companies will have died in five years for nothing. American solar cell and module manufacturers will just be added to the scrap heap of death, like so many manufacturing segments before us – and sadly, more manufacturing segments that will most assuredly follow. The bell will toll again unless we begin to act."
In his prepared testimony, Juergen Stein, CEO of SolarWorld Americas, also thanked the commission for its "hard work" and "clear finding on injury."
"SolarWorld has already begun to act in anticipation of the U.S. industry receiving strong and immediate safeguards relief. Almost immediately following the commission's injury vote, SolarWorld announced plans to ramp up production and hire up to 200 workers," said Stein. "This is just a start. With an effective remedy in place, SolarWorld is committed to doing much more."
Notably, though, a SolarWorld spokesperson recently verified to Solar Industry that despite plans to boost its Hillsborough, Ore., plant and add workers following a mass layoff earlier this year, the company is still exploring a possible sale of its business, among other options.
As for the co-petitioners' proposed tariffs, Stein claimed in his testimony, "These tariffs would return U.S. prices to levels reported in late 2015/early 2016, just before the most recent price crash. This was also a period in which U.S. solar installations were increasing at a record pace."
He added, "A temporary tariff will help stabilize prices after falling dramatically during the investigation period. A tariff will also allow SolarWorld and other U.S. producers to expand their production and capacity, and will encourage investment by others."
In addition, Stein suggested SolarWorld's requested import quota "is also needed given the facts of this case."
"A temporary quota will enable the domestic industry to recover market share that was lost to imports in recent years, as well as regain profitability," he said. "A quota is also necessary to stop duty evasion by foreign producers. As well documented by the commission's staff, foreign producers and importers will stop at nothing to avoid paying duties, including rapidly shifting production to other countries. If the remedy is to have any effect, we cannot let this happen."
The case garnered support from U.S. Rep. Suzanne Bonamici, D-Ore., who declared, "I am proud to represent SolarWorld and its employees in Hillsboro, Oregon."
In prepared testimony, Bonamici said, "I am here today to express my support for a thoughtful and strong remedy that will recognize that our domestic manufacturers need to be able to compete on a level playing field, and also recognize the potential for growth in the renewable energy industry in Oregon and the United States."
She later added, "The jobs lost at SolarWorld were good jobs in an important industry, one in which our nation should be leading"
Matthew J. McConkey, counsel from Mayer Brown LLP on behalf of Suniva, said in his prepared ITC testimony, "Tariffs alone will not remedy the serious injury you found, nor will quotas or a price floor alone do it – the remedy needs both, to ensure that it is not undermined. And it needs to last the full four years. Why? To give the domestic industry the time to grow the scale and the supply chain to be competitive beyond the remedy period."
Notably, the co-petitioners and their representatives also raised concerns at the hearing about the ITC's recent finding that certain U.S. free-trade partner countries, namely Canada and Singapore, did not cause serious injury and might be exempt from potential global trade remedies under Section 201.
"An effective remedy must also ensure there are no loopholes that foreign producers can exploit," said McConkey in his testimony. "For example, it cannot be that Malaysian cells can be sent to Canada, put into a module, and escape the 201 remedies. Cells define origin. Therefore, a Canadian-assembled module containing Malaysian cells is Malaysian for purposes of the 201."
Suniva and SolarWorld have long alleged that global safeguards under Section 201 are necessary because Chinese-owned manufacturers set up shop in other markets to avoid the U.S.' previously imposed trade duties on Chinese solar products.
After testifying at the first ITC public hearing in August, Stephen Shea, formerly vice president of now-bankrupt U.S. module maker Beamreach Solar, returned in defense of the case.
Shea said in prepared testimony, "SEIA's proposed remedy would provide U.S. producers with technical assistance, financial assistance, and trade adjustment assistance, effectively subsidies. SEIA continually represents petitioners as feckless business people deploying outdated technology in cost-prohibitive factories, in need of help. None of these characterizations are true."
McConkey took aim at SEIA in his testimony, as well, saying, "SEIA's remedy brief proves the old legal adage: If you have the facts on your side, pound the facts. If you have the law on your side, pound the law. When neither is on your side, pound the table. Today, SEIA, and those opposed to saving the U.S. solar manufacturing industry, are pounding the table – by weaving tales of doomsday outcomes. Why are they doing this? Because neither the law nor the facts are on their side."
Case opponents
In its Tuesday press release, SEIA charged that the co-petitioners have proposed illegal remedies, and the group said its presentation to the ITC aimed to illustrate the impact such remedies would have on the U.S. solar industry.
According to the release, SEIA argued that the proposed tariffs violate the law because, in a 201 case, any new tariff cannot exceed 50% of the value of the product as it enters the U.S. Furthermore, SEIA claimed the co-petitioners did not use the appropriate methodology to calculate their proposals.
"It's hard for us to see a scenario where these companies could get legally permissible trade relief that would enable them to compete in any market," said Abigail Ross Hopper, president and CEO of SEIA, in the release. "Our perspective is that while trade-restrictive relief is not appropriate for these two poorly run companies, we remain committed to supporting domestic manufacturing and are advocating for creative solutions that can resolve this deeply flawed case."
(More information on SEIA's arguments and recommendations to the ITC can be found here.)
Notably, the co-petitioners weren't the only ones who garnered support from a U.S. lawmaker on Tuesday. In his prepared testimony, U.S. Sen. Martin Heinrich, D-N.M., said he was "very concerned" about the imposition of "high tariffs" and called on the ITC to "look at the bigger picture of the American solar industry while making a recommendation in this case."
"Although panels can be manufactured anywhere, the labor to install them on rooftops or in larger utility-scale arrays must be done by local workers," said Heinrich, who later added, "We would be shooting ourselves in the foot by threatening to end the growth of a booming industry that is employing American workers in good-paying jobs."
Craig Cornelius, president of U.S. independent power producer NRG Renewables, argued that implementation of the co-petitioners' proposals would hinder market growth by making some solar projects less cost-competitive and, thus, less attractive.
"The petitioners acknowledge that their proposed remedies would push the solar market back to pricing levels we experienced in 2015 and earlier, when the utility-scale market was less than half the size it is today," he said in his prepared testimony.
Cornelius further charged, "Entire regions of the U.S. that have been the focal point of new project development will no longer see solar as an economically viable fuel source. Major slowdowns will occur across the nation."
He also called attention to SolarWorld's recently announced plan to hire up to 200 workers.
"To put that number in perspective, that number – 200 jobs – is the same number of jobs we provide in direct construction labor through a single 100 MW utility-scale solar project. And that doesn't include manufacturing jobs with our equipment suppliers or others in the supply chain. If no remedy were to be imposed, we would be aiming to complete 20 times that capacity of projects during the next three years."
Pete Alyanakian, North American industry director for DuPont Photovoltaic & Advanced Materials, said the global PV materials supplier "strongly oppose[s] significant remedies, as we believe they would essentially double the price of imported solar panels, many of which contain DuPont products, putting solar energy out of reach of mainstream America."
In his prepared testimony, Alyanakian added, "This would be felt throughout the entire U.S. solar industry, resulting in a dramatic decline in the purchase and installation of solar panels in the country and endangering tens of thousands of skilled/high-paying U.S. jobs, including U.S. jobs at DuPont."
He said, "We express our hope as the commission deliberates regarding what remedies it will recommend to the president [and] that it consider the impact on the entire U.S. solar industry."
With Tuesday's remedy hearing over, the ITC is now tasked with weighing all of the stakeholder input before ultimately making a remedy recommendation to Trump by Nov. 13. However, under the rules of a Section 201 case, the president will have the final say on whether to implement trade actions – Trump can accept, reject or change the ITC proposal at his discretion.
Photo courtesy of SEIA's Twitter account