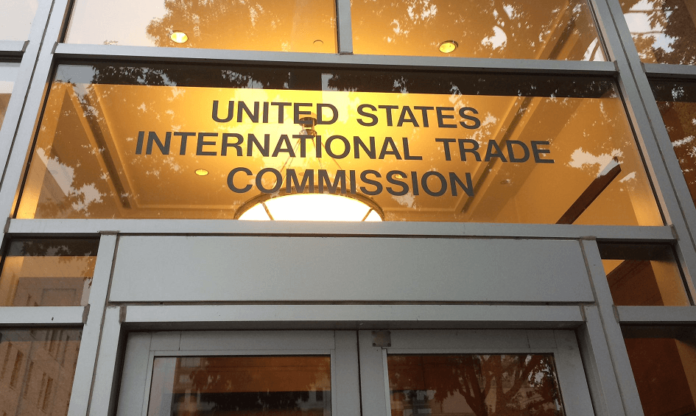 Despite a strong opposition campaign, the U.S. International Trade Commission (ITC) handed co-petitioners Suniva and SolarWorld Americas a victory in their controversial Section 201 trade case on Friday.
All four designated commissioners voted affirmatively that crystalline silicon photovoltaic (CSPV) cells and modules have been imported into the U.S. in such quantities that it caused, or threatened to cause, serious injury to the domestic CSPV manufacturing industry. The unanimous decision moves the ITC's global safeguard investigation from the injury phase to the remedy phase, and the commission will ultimately make a remedy recommendation to President Donald Trump. If the ITC had voted against the petition, the case would have ended. Now, Trump will have the final say.
Suniva declares it is "gratified" by the ITC's vote. "We brought this action because the U.S. solar manufacturing industry finds itself at the precipice of extinction at the hands of foreign market overcapacity," the company says in a statement. "The ITC has agreed, and now it will be in President Trump's hands to decide whether America will continue to have the capability to manufacture this energy source. President Trump can remedy this injury with relief that ensures U.S. energy dominance that includes a healthy U.S. solar ecosystem and prevents China and its proxies from owning the sun."
In a separate release, Juergen Stein, CEO and president of SolarWorld Americas, says, "On behalf of the entire solar cell and panel manufacturing industry, we welcome this important step toward securing relief from a surge of imports that has idled and shuttered dozens of factories, leaving thousands of workers without jobs."
Meanwhile, the Solar Energy Industries Association (SEIA), which led a massive campaign against the case, denounces the decision.
"The ITC's decision is disappointing for nearly 9,000 U.S. solar companies and the 260,000 Americans they employ," says Abigail Ross Hopper, president and CEO of SEIA, in a release. "Foreign-owned companies that brought business failures on themselves are attempting to exploit American trade laws to gain a bailout for their bad investments. Analysts say Suniva's remedy proposal will double the price of solar, destroy two-thirds of demand, erode billions of dollars in investment and unnecessarily force 88,000 Americans to lose their jobs in 2018."
The Energy Trade Action Coalition (ETAC), a group of companies, associations and organizations that joined together in July to oppose the trade petition, has also spoken out against the ruling.
ETAC Spokesperson Paul Nathanson says, "Utilities, power co-ops, retailers, manufacturers and other large commercial users, along with conservative groups who have criticized federal solar subsidies, all agree that unwarranted tariffs would cause severe damage to the solar industry while setting a terrible precedent for future trade cases."
The ITC officially launched its probe in May after Georgia-based bankrupt manufacturer Suniva filed a Section 201 petition, and facing troubles of its own, Oregon-based SolarWorld Americas later joined as a co-petitioner. The two companies have argued that Chinese-owned suppliers set up shop in other markets to successfully avoid U.S. tariffs and that a continued glut of cheap imports into the U.S. makes it difficult for domestic manufacturers to compete. (Notably, SolarWorld has a German parent and Suniva is majority owned by a Chinese company, which itself opposed the Section 201 petition.)
The obscure Section 201 mechanism is unlike the previous SolarWorld-led U.S. trade actions against Chinese and Taiwanese solar imports. As the ITC explains in a fact sheet, "Global safeguard investigations do not require a finding of an unfair trade practice such as under the U.S. countervailing duty law (a foreign subsidy) or the antidumping duty law."
Furthermore, the investigations "are not country specific," meaning any new import tariffs or other remedy would be implemented on a global scale, rather than focus on CSPV products from a particular country. However, the fact sheet says the commissioners were "required to make additional separate findings for certain countries with which the U.S. has free-trade agreements."
In fact, an ITC press release indicates that, of those free-trade agreement partners, the commission did not find injury on Friday with respect to CSPV imports from Canada and Singapore, as well as from Australia, Costa Rica, El Salvador, Guatemala, Honduras, Nicaragua, the Dominican Republic, Colombia, Jordan, Panama and Peru. The commission did, however, make affirmative injury determinations for free-trade partners Mexico and Korea.
The ITC decision follows an hours-long hearing in August during which the co-petitioners, SEIA and other stakeholders testified. SEIA has rallied solar companies, legislators and other stakeholders against the petition ever since Suniva initiated the case, but in the lead-up to Friday's vote, SolarWorld and Suniva garnered public support from a number of groups. In a recent analysis, the co-petitioners claimed the proposed trade actions would lead to at least 114,800 new jobs across all solar industry segments – a finding that contradicts an earlier SEIA analysis claiming that 88,000 U.S. solar jobs would be lost next year if the ITC imposes the trade protections.
In a statement, Andrea Luecke, president and executive director of The Solar Foundation, says, "This decision brings yet more uncertainty to an industry that has created real value for the United States."
"Our National Solar Jobs Census finds the dramatic growth in U.S. solar employment over the past several years was driven by the sharply reduced cost of installations," she states. "Any new tariffs are likely to increase costs and reduce demand for installations, disrupting the solar jobs market that now employs 260,000 workers in the United States and is valued in the tens of billions of dollars. The next update to our Solar Jobs Census will include more information and analysis on how this decision will impact American solar jobs."
Next Steps
As mentioned, the ITC will now move forward to the remedy phase, which will include more stakeholder input and another hearing on Oct. 3. The commission will make its recommendation to Trump on Nov. 13, and the president will then have about two months to decide whether to adopt that recommendation or another remedy – if one at all.
However, it should be noted that Trump and his team have previously singled out Section 201 as a potential remedy for other trade issues and the president reportedly reiterated a call for tariffs recently.
In its petition, Suniva proposed an initial import tariff of $0.40/W per CSPV cell and a minimum import price of $0.78/W per CSPV module (which is inclusive of the $0.40/W cell tariff). Several analysts have said that would essentially double the current price of solar modules and make those imported into the U.S. the most expensive in the world.
Although SolarWorld did not propose its own remedy after joining the petition, Tim Brightbill, the company's trade counsel and partner at Wiley Rein LLP in Washington, D.C., recently verified during an interview at the Solar Power International trade show, "We support Suniva's remedy proposal."
Nonetheless, SolarWorld's Stein says in his Friday statement, "In the remedy phase of the process, we will strive to help fashion a remedy that will put the U.S. industry as a whole back on a growth path. We will continue to invite the Solar Energy Industries Association and our industry partners to work on good solutions for the entire industry. It is time for the industry to come together to strengthen American solar manufacturing for the long term."
SEIA's Hopper says, "While we continue to believe that this is the wrong decision, based on Suniva and SolarWorld's mismanagement, we respect the commission's vote and we will continue to lead the effort to protect the solar industry from damaging trade relief. We expect to be front and center in the ITC remedy process and in the administration's consideration of this deeply flawed case.
"As the remedy phase moves forward, I am determined to reach a conclusion that will protect the solar industry, our workers and the American public from what amounts to a shakedown by these two companies," she continues. "An improper remedy will devastate the burgeoning American solar economy and ultimately harm America's manufacturers and 36,000 people currently engaged in solar manufacturing that don't make cells and panels."
ETAC's Nathanson adds, "ETAC will continue to fight vigorously during the remedy phase, encouraging administration officials and members of Congress to help ensure that no remedies are imposed that would threaten the solar industry's ability to compete with other energy sources."
In an emailed statement, Tony Clifford, chief development officer of Maryland-based solar provider Standard Solar, says, "Anyone closely involved with watching how this trade petition wended its way through the U.S. International Trade Commission process always had a sneaking suspicion the final decision would end up with President Donald J. Trump. The ITC did its due diligence and, after much deliberation, decided these two foreign-owned module makers were indeed harmed by module imports from other countries – but fortunately, today's decision is only the beginning, not the ending, of the story."
Clifford adds, "Now the ITC begins its deliberations about what remedies should be imposed on imports, and this will be where the real effects on the industry will be determined. I hope the ITC will conclude only minimal or no tariff increases are necessary. Otherwise, the U.S. solar industry could lose 88,000 or more jobs. I'd also remind President Trump that two-thirds of the solar jobs in America do not require any college education. Losing 88,000 jobs, most of which are blue collar, is a lot for the American economy – and President Trump's base in particular – to absorb."
An Associated Press report cites White House spokesperson Natalie Strom as saying Trump "will examine the facts and make a determination that reflects the best interests of the United States. The U.S. solar manufacturing sector contributes to our energy security and economic prosperity."
Morten A. Lund, a partner at Stoel Rives and chair of the law firm's Solar Energy Initiative, says, "The president will have significant discretion in whether to move forward with any remedy recommended by the United States International Trade Commission, including the discretion to modify the recommended remedy. He will probably decide with advice from the United States Trade Representative and advisors.
"With a 4-0 vote, it seems likely that the president will impose a remedy or risk backlash from ignoring a unanimous vote of injury from the USITC, the country's trade watchdog," Lund continues. "The remedy hearing and process will tell us a lot about how much the commission will consider the impact on the greater solar industry or energy sector in fashioning a remedy. The president has shown a strong protectionist leaning in trade matters, particularly with regard to China, and is known to favor tariffs generally. That would tend to support an expectation that he will implement a remedy."
According to the ITC fact sheet, a Section 201 remedy is "temporary," and "the initial period of relief cannot be longer than four years." The fact sheet adds, "If extended, the effective period of relief cannot exceed eight years in the aggregate."
Photo courtesy of SEIA