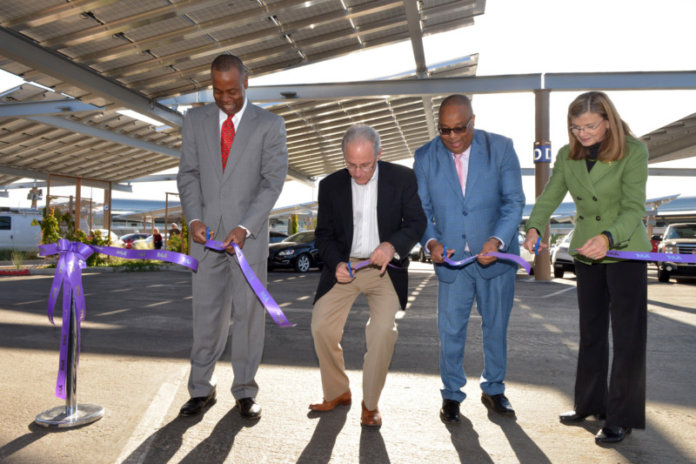 On Wednesday, the Tucson Airport Authority (TAA) celebrated the completion of a solar canopy project covering the hourly and daily parking lots directly adjacent to the terminal at the Tucson International Airport (TUS).
According to TAA, the $14.3 million project is expected to generate an additional 411,800 kWh monthly at a savings of $35,000 per month at TUS, and the energy generated powers up to half of the electricity in the TUS terminal and concourses.
The project was funded by grants from the Federal Aviation Administration (FAA) and Arizona Department of Transportation, with a matching contribution by TAA. The FAA funded 91.06% of the project.
The solar project was started in 2013 and split into two phases. According to a local Arizona Daily Star report, the project now totals 2.5 MW, with the first phase at 1 MW and the second phase at 1.5 MW.
The ribbon-cutting ceremony hosted Tucson, Ariz., Mayor Jonathan Rothschild and FAA Regional Manager Mark McClardy, among others.
"We've had solar projects proposed throughout the country, but I have to say that this is one of the most successful that I've seen in the country and certainly one of the most successful in the region that I have," McClardy said during the event. "It takes a vision to do this. It doesn't come from osmosis. This is beautiful. It's more than the solar benefits that you're getting from this. It's the passenger experience."
"This landmark solar project is significant for the airport as well as our community because it saves money while creating jobs and additional economic opportunities here in Tucson," added TAA President and CEO Bonnie Allin. "We could not be more appreciative of the FAA's support of our vision for a cutting-edge solar project that not only benefits the environment, but that also has a collateral benefit of covered parking for our customers. Additionally, it showcases the airport and community's strong commitments to environmental and social responsibility, as visitors flying into Tucson immediately see the value we place on clean, efficient and affordable production of electricity."
According to TAA, the project design engineering team included Monrad Engineering Inc., electrical design; DOWL HKM, civil engineering; Herzog Associates, architectural; Schneider Structural Engineers, structural engineering; Wheat Design Group, landscape architect; and Sturgeon Electric, general contractor.
Photo courtesy of TAA