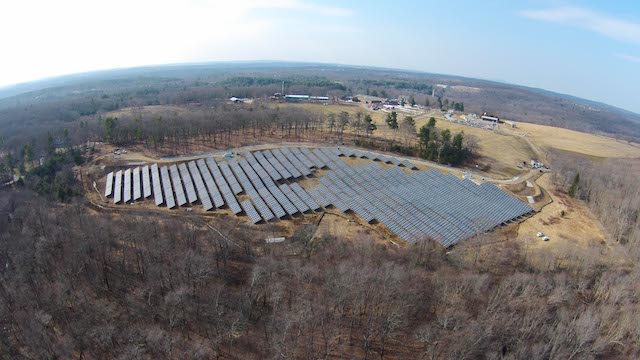 Two new solar installations at Cummings School of Veterinary Medicine at Tufts University in North Grafton, Mass., will generate 40% of the school's electric power and are expected to save Tufts University up to $5.3 million over the next 20 years.
NRG Energy Inc. installed the two arrays: an approximately 2.5 MW DC project built on eight acres south of the Bernice Barbour Wildlife Medicine Building and an approximately 1.27 MW DC project on four acres near Grafton Science Park, a research and office complex on the western edge of campus near the Grafton commuter rail station.
NRG Energy will own, operate and maintain the projects, as well as retain the renewable energy credits. PowerOptions, a 500-member energy consortium that helps nonprofits consolidate their energy buying, negotiated a power purchase agreement for the university.
"We spend about 60 percent less for solar-generated power than we do to purchase electricity," explains Betsy Isenstein, director of facilities technical services at Tufts University, who is managing the project.
"This initiative will support the sustainability goals championed by Tufts President Anthony Monaco, who has made the reduction of energy consumption, greenhouse gases, water use and waste a priority of his administration," adds Deborah T. Kochevar, dean of Cummings School.
The installations at Cummings School are the largest on Tufts University's campuses. The university says it is assessing solar potential on its Medford/Somerville campus, in addition to the photovoltaic system that was installed in 2014 on the roof of Dowling Hall, which houses a variety of student and administrative services as well as a parking garage.
Photo courtesy of Tufts University: An aerial shot of one of the two solar installations at Cummings School of Veterinary Medicine.