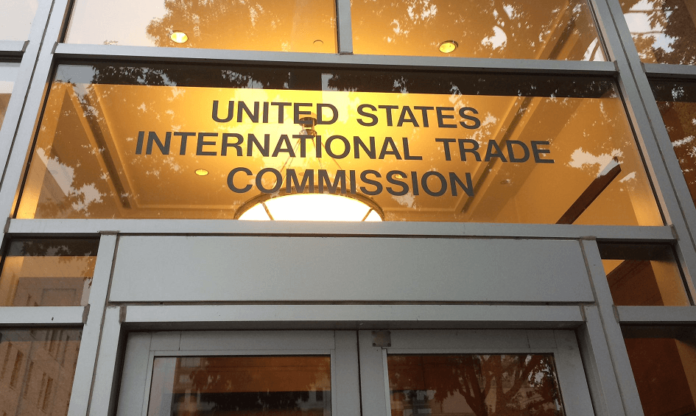 On Tuesday, the U.S. International Trade Commission (ITC) held its long-awaited first hearing on the Section 201 trade case in Washington, D.C. The Solar Energy Industries Association (SEIA), which has led a major campaign against the case, says dozens of U.S. solar workers rallied in D.C. to attend the packed hearing.
The ITC heard testimony from various stakeholders as the agency continues working to determine whether solar imports are causing "serious injury" to domestic manufacturers. The agency initially launched its safeguard investigation in May after bankrupt manufacturer Suniva filed a Section 201 petition seeking new global tariffs and minimum prices on crystalline silicon photovoltaic (CSPV) cells and modules imported into the U.S. Oregon-based SolarWorld Americas later joined the case as a co-petitioner, and both companies argue that cheap imports into the U.S., namely from Chinese-owned companies, make it difficult to compete.
In its petition, Suniva proposed an initial import tariff of $0.40/W per CSPV cell and a minimum import price of $0.78/W per CSPV module (which is inclusive of the $0.40/W cell tariff). Several analysts say that would double the current price of solar modules, making modules imported into the U.S. the most expensive in the world. In addition, the Section 201 petition would apply to all foreign-made CSPV imports, rather than focus on products from a particular country.
In June, SEIA released an analysis claiming 88,000 U.S. solar jobs would be lost next year if the ITC imposes the requested trade protections. More recently, Suniva and SolarWorld released an analysis of their own claiming the trade protections would create, not kill, at least 114,800 new U.S. jobs.
In the lead-up to the Tuesday ITC hearing, leaders from both sides of the argument made a final push: For example, the co-petitioners touted an ITC staff report finding that nearly 30 U.S. CSPV manufacturing sites have closed down since 2012, and SEIA helped organize a bipartisan effort from 69 Congress members calling on the ITC to reject the requested tariffs.
At Tuesday's hearing, SEIA claimed that the co-petitioners' troubles in the U.S. had "nothing to do with imports."
SEIA attorney Matthew Nicely, of the law firm Hughes Hubbard & Reed, argued that in a so-called safeguard case, Congress and World Trade Organization rules require that the ITC find that imports were the "substantial cause" of the industry's "serious injury" for the commission to provide relief – tests that could not have been met given the industry's steep rise in capacity, production and shipments.
Solar's "continued success could be destroyed by the misguided actions of the two petitioners and their small group of supporters – whose workers represent less than 1 percent of all those that work for this dynamic American industry," Nicely said.
Lauren "Bubba" McDonald Jr., a Public Service Commission member from Suniva's home state of Georgia, was among state officials who testified against the petition.
"The expansion of the solar market benefits the entire U.S. solar industry, including producers of cells, modules, panels and installers, as well as many downstream industries," he said. "But more importantly, the growth in solar energy benefits electricity consumers. Those benefits are immediate and lasting, because solar energy provides clean, reliable, and renewable energy at low prices."
North Carolina Rep. Jason Saine said solar's growth was a key reason why his state had attracted $9 billion in investment in the last 10 years, which has especially helped poorer counties.
"As a policymaker, every day I am faced with decisions that can create trade-offs and, therefore, can create winners and losers in any industry," Saine said. "Imposing tariffs on imported modules is not the way to go about saving solar manufacturing. It is about providing a government handout to two companies."
Some major industry players also called into question how Suniva and SolarWorld conducted business. Edward Fenster, executive chairman of Sunrun Inc., said the residential solar installer "experienced delivery and serious product quality problems with both companies, inflicting upon us financial and reputational harm."
In his testimony, Dan Shugar, CEO of solar tracker supplier NEXTracker Inc., said a past partnership with SolarWorld for a large order "turned out to be a poor decision."
"SolarWorld accepted the order but then had a range of problems fulfilling it, starting with deliveries that were late by six weeks or more," said Shugar. "When the panels finally came, we discovered from the labels that they were actually made in Thailand, not Oregon. Additionally, non-conformance with technical specifications required us to modify the panels in a third-party warehouse."
He said NEXTracker ultimately canceled the balance of the purchase order and disqualified SolarWorld from its vendor list. "This is not a picture of a company poised to succeed in the marketplace if granted still another trade remedy," claimed Shugar.
Amy Grace, head of North America research at Bloomberg New Energy Finance, warned that the proposed trade tariffs "would result in fewer contracts being signed and lower solar deployment."
The "Last Hope"?
Although the Section 201 case has garnered strong opposition, SolarWorld and Suniva were able to present their case at the Tuesday hearing, alongside a few allies.
Juergen Stein, CEO of SolarWorld Americas, stated in his testimony, "Quite simply, we need the commission's help to save solar manufacturing in the United States."
Stein noted the U.S.' previous SolarWorld-led trade actions against solar imports from China and Taiwan and said, "[W]e expected the relief to give us the breathing space we needed to respond to unfair import competition. In fact, they did have a positive impact, and they helped us to survive till today. But here we are again. Rather than the long-lasting and meaningful relief we expected, global exports continued to increase."
"So what happened?" he said. "The answer is, in brief, the continued buildup of global overcapacity, combined with Chinese producers' efforts to evade the previous antidumping and countervailing duty orders. This has resulted in an overwhelming surge of global imports into the United States, and with it a collapse in prices. As a result, the domestic solar manufacturing industry has been driven to the brink. Relief under Section 201 is our last hope."
SolarWorld Americas is still operating its manufacturing plant in Oregon, but the company recently downsized its operations and laid off over half of its workforce. (Notably, the U.S. company's German parent has started anew after entering insolvency earlier this year.)
"As a country, we will have ceded manufacturing of the next meaningful source of electrical generation to China and its proxies in Southeast Asia and other global outposts," said Matt Card, executive vice president of commercial operations for Suniva.
"Because of the rapid rise in global cell and module imports, and their crushing impact on U.S. solar producers, we have had no choice but to supply increasing amounts of foreign made panels," said Edward Harner, COO of Green Solar Technologies, a certified SolarWorld Platinum installer.
Stephen Shea, formerly vice president of now-bankrupt U.S. module maker Beamreach Solar, said, "Beamreach was forced in Chapter 7 bankruptcy in large part because of the surge of low-cost imports." Shea added, "Beamreach could not keep pace with the rapid reduction in prices driven by imports, first from China, then from countries like Taiwan, Vietnam, Malaysia, Korea, etc., and the resulting glut of product quickly destroyed the profit margins."
Dave McCarty, CEO of U.S. module maker Itek Energy LLC, said, "Itek Energy fully supports this 201 action. We are losing U.S. jobs not only in PV module manufacturing, but in all the high-tech industries that support the U.S. solar industry."
Tuesday's hearing was the first in the case ahead of an ITC decision by Sept. 22 about whether solar imports are, indeed, causing injury. Only if the ITC finds injury would the case move forward to a remedy stage, after which the agency would recommend a trade remedy to President Donald Trump by Nov. 13. The president would then make the final decision.
Cover photo courtesy of SEIA's Twitter account