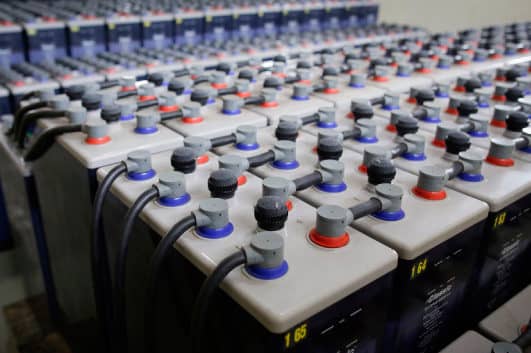 The news of electric vehicle (EV) battery reuse is gaining in popularity because there are more than 1.5 million EVs navigating the world's roads. In the coming year, the batteries from the first wave of electric motor vehicles will come to the end of their automotive life cycle, while retaining approximately 80% of their original capacity. Automotive applications can be challenging with respect to the demand placed on the battery, and as batteries degrade, they reach a point where these demands cannot be met effectively.
However, while no longer viable for automotive use, at 80% capacity, EV batteries are still able to be repurposed for a number of stationary solar energy storage applications, leading to an important "second life." Furthermore, reusing EV batteries could help shrink landfill waste.
These second-life batteries offer an exciting opportunity to support renewable energy initiatives and are expected to play a key role in the expansion of energy storage and solar support. Each battery, however, needs to be evaluated individually, as each one has been exposed to different charging and discharging conditions throughout its lifetime. Each degradation profile will vary based on the battery design, the vehicle, and even the individual life of the battery, which also reflects environmental exposure conditions.
Repurposed batteries can be used at utility scale, commercial scale, and even within community or local power applications. Specifically, solar energy may benefit from battery integration, which can help owners hedge against potential intermittencies in solar electricity supply because they can store surplus energy and add capacity and flexibility. In addition, there have also been recent interesting innovations using solar power to directly charge EVs.
UL develops new safety standard
To help ensure EV batteries are safely deployed in their second-life applications, UL is working with input from automakers, battery reclaimers, electric utilities and academic institutions to develop the safety standard UL 1974. The standard will be designed to provide users with the confidence that an EV battery will function effectively as an energy storage device in a residence, commercial facility, microgrid or utility-scale application.
UL has been doing extensive battery research for more than a decade and leveraging that into its standards, product testing programs and certification of battery technologies. However, the testing of EV batteries for reuse differs significantly from UL's usual approach. The biggest difference in the development of this standard is that instead of certifying an end-product to a requirement, this standard covers the testing and certifying the conversion of a product already in use.
First, batteries are classified for their "state of health" through initial screening tests that consider all different types of batteries and types of technologies. Then, "bad" EV cells are weeded out through additional testing processes, which determine what part of a battery pack will be swapped out, what will be replaced, and what will be disposed of.
The real challenge is finding a method of evaluation for EV batteries that is nondestructive; otherwise, UL's testing would destroy the battery around which this process has been built. UL is still establishing the finalized nondestructive testing criteria for the UL 1974 standard, but we know infrared imaging or similar tests can provide precise electrical evaluation of the cells, allowing for the assessment of an individual battery's health to see if it is capable of being repurposed or not.
While large-scale deployments of reused EV batteries have not been established yet, UL has partnered with those at the forefront of this development. Research in the areas of EV batteries and solar power should help foster the development of large-scale deployments that bring flexibility, resiliency and reliability for the grid, as well as support the growth of a technology that will make energy more affordable and accessible.
Ken Boyce is principal engineer director of energy and power technologies at UL LLC, a global safety consulting and certification company. Photos courtesy of UL.