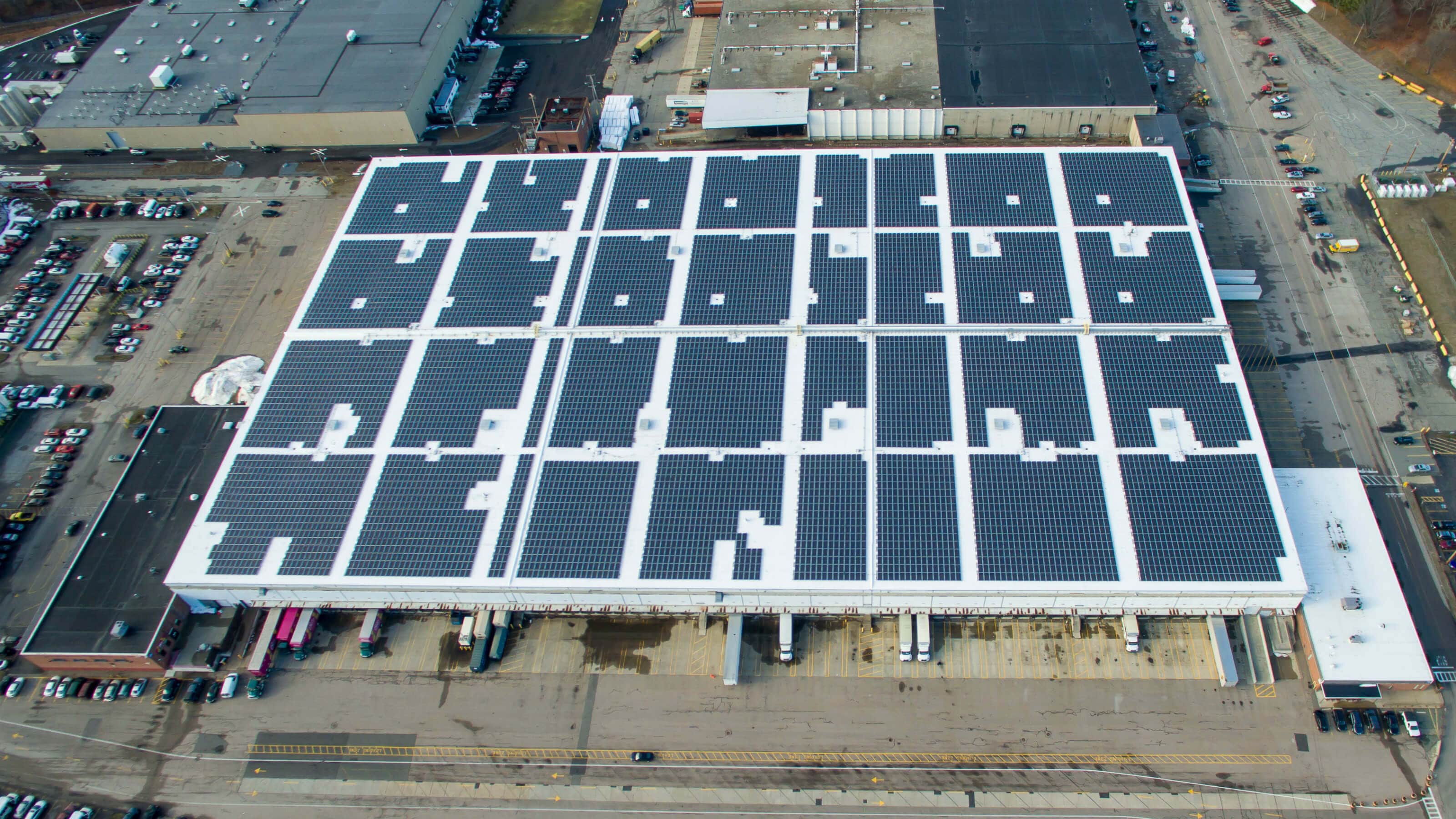 A new 3.9 MW solar installation built atop Boston Business Park is expected to help the University of Massachusetts, Boston (UMass Boston) avoid up to $5 million in energy costs over the next 20 years through virtual net metering, according to Borrego Solar Systems.
National Development, Altus Power America and Borrego have announced the completion of the large rooftop solar array at Boston Business Park, which straddles the Boston/Dedham line and is home to several warehousing and distribution companies. The solar project is expected to generate 4.8 million kWh of energy annually.
"We were thrilled to work with Altus Power and Borrego Solar on such a landmark installation – one of the largest solar installations in New England – which not only adds a great deal to the property but, more importantly, fulfills a major goal of National Development to make our buildings as sustainable as they can be while being innovative in the process," says Andrew Gallinaro, senior vice president of asset management at National Development, which owns Boston Business Park.
Altus Power owns the solar installation and will sell the energy produced to UMass Boston through a net metering credit purchase agreement. Virtual net metering is a utility billing mechanism that enables the off-taker to receive energy credits on its utility bill from a remotely located installation.
"Powering up this solar system and starting to deliver clean energy savings to UMass Boston marks an important milestone for Altus Power and our development, construction and real estate partners," says Gregg Felton, managing partner of Altus Power America.
Borrego Solar built and developed the array, and Jared Connell, the company's Massachusetts director of project development, states, "This project demonstrates the remarkable evolution of Massachusetts' solar market. When we began developing and installing solar here in 2007, there were only 3 MW of operational solar plants and virtual net metering had just been enacted. We're now able to cost-effectively construct massive rooftop projects that provide significant economic and environmental benefits for all stakeholders."
Competitive Energy Services (CES) advised UMass Boston on this solar project.
"CES has assisted UMass Boston with energy-related issues since 2011," explains Zac Bloom, director of sustainability for CES. "The five UMass system campuses combined are the largest off-takers of virtual net metering credits in the commonwealth, and the 3.9 MW solar array at the Boston Business Park will be one of the final PV systems installed in their portfolio, bringing their total off-take to about 50 MW."
Bloom adds, "The solar array will provide important financial savings to the university, and UMass is thrilled to help yet another solar project reach commercial operations in Massachusetts."