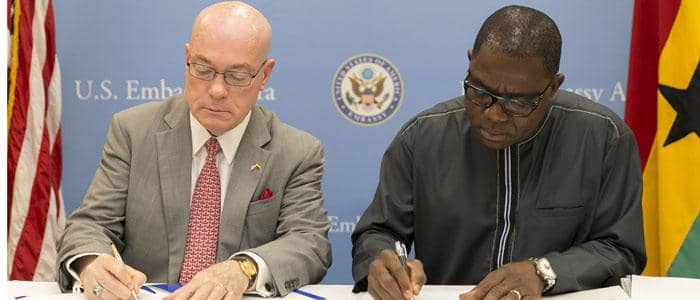 The U.S. Trade and Development Agency (USTDA) has awarded a $704,815 grant to Home Energy Africa Ltd., a Ghanaian solar power developer, for technical assistance that will help bring a 100 MW solar PV project in the village of Nyimbale-Sankana, Ghana, toward financial close.
"Lack of power is a challenge we see across sub-Saharan Africa. Two out of three people in this region lack access to electricity. That hinders business, and it hinders prosperity. We've made increasing access to power one of the top priorities for our bilateral relationship," states the U.S. ambassador to Ghana, Robert P. Jackson, who signed the grant on behalf of the USTDA.
Charles Sena Ayenu, president and CEO of Home Energy Africa, adds, "This grant will support us in bringing our solar power PV project to financial close in order to fill the gap in power supply, meet Ghana's goals for clean and sustainable energy, help create over 200 jobs to local communities and provide electricity to at least 80,000 average homes in Ghana."
Home Energy Africa has selected New York-based GreenMax Capital Advisors to carry out the technical assistance. This will include preparation for power purchase agreement negotiations, services contracts and financing arrangements. The USTDA says implementation of the project will support the government of Ghana in achieving its target of 5 GW of installed generation, including 10% from renewable sources.
The USTDA adds that its partnership with Home Energy Africa supports the goals of Power Africa, a U.S. government-led initiative to increase electricity access across sub-Saharan Africa.
Photo courtesy of the USTDA: Jackson and Ayenu sign the USTDA grant agreement at the U.S. Embassy in Accra.