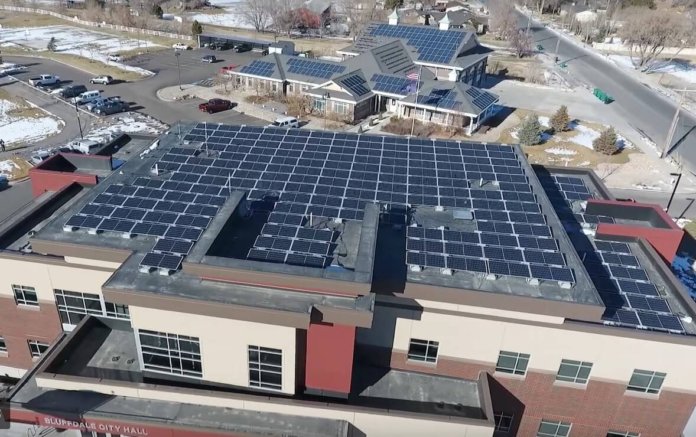 Bluffdale City, Utah, is celebrating the completion of a new solar project.
The 500-panel project, which includes solar arrays on Bluffdale City Hall and fire stations 91 and 92, is providing nearly 50% of the energy used at the three buildings. It is expected to save the city $20,000 per year in energy costs.
The project was made possible by a $281,826 grant from utility Rocky Mountain Power's Blue Sky customers. Blue Sky customers voluntarily support wind and solar energy generation in the region; to date, the program has provided more than $10 million in funding to community-based renewable energy projects.
"Blue Sky enabled us to install these panels and achieve our goal of moving toward renewable power, while also saving money in energy costs," says Derk Timothy, mayor of Bluffdale. "Because solar energy has very little to no maintenance costs, the city will benefit for years to come."
"We are excited to be a part of a program that helps preserve the environment and conserve resources for future generations," adds Bluffdale's city manager, Mark Reid. "We appreciate Blue Sky customers for helping to make this happen."
The Bluffdale facility marks the Blue Sky program's 150th project since 2006.