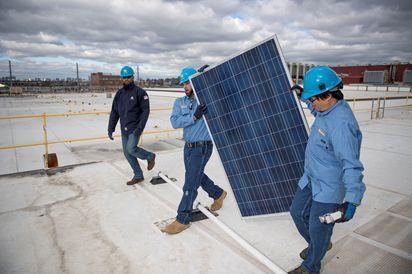 The New York State Public Service Commission (PSC) has approved utility Con Edison's proposed pilot program to build solar arrays on company-owned rooftops and properties to make renewable energy available to low-income customers.
Con Edison says it expects to begin installing the first solar panels in 2018 on properties in Brooklyn, Queens and Westchester County. In this initial phase, the utility plans to install enough panels to generate 3 MW of power to serve 800 to 1,600 of its customers. Con Edison says there will be no cost to low-income participants, each of whom could realize savings of at least $60 per year.
The utility notes several factors have made it difficult for low-income customers to access solar energy: Many of them rent their homes or live in multi-family buildings where they do not have control of their roofs, and the upfront costs of installing solar and ability to borrow money can also be barriers.
"We thank the state Public Service Commission for its careful review and approval of the first phase of our Shared Solar Pilot Program, which will make renewable energy available to a group of customers who have been largely shut out of the solar market," says Matthew Ketschke, Con Edison's vice president of distributed resource integration. "More customers having access to renewable energy will mean a cleaner environment here in New York City and Westchester County."
"This pilot program will not only show how community distributed generation, or CDG, can benefit a low-income neighborhood; it will also contribute to Governor Andrew M. Cuomo's visionary [50% by 2030] clean energy standard adopted by the commission last year," comments PSC Chair John B. Rhodes. "By serving low-income residents with clean energy, Con Edison is filling a niche that hasn't been fully served in the state. Furthermore, we believe this project, and the insight gained from this pilot, will lead to market development of other shared solar arrays around the state that will bring the benefits of clean energy to more low-income customers."
According to Con Edison, developers will bid competitively for contracts to install arrays on utility-owned properties. The utility also plans to begin forming partnerships with community organizations that can help get the word out to customers who may be able to benefit from the program.
Although the pilot project will initially produce 3 MW of power, Con Edison also proposed in its 2016 filing an expansion to 11 MW that could serve a total of 6,000 low-income customers if the pilot is deemed successful. The utility estimates the cost of the first phase of the program to be about $10 million.
Photo: Con Edison workers carrying a solar panel on a company roof in Queens.