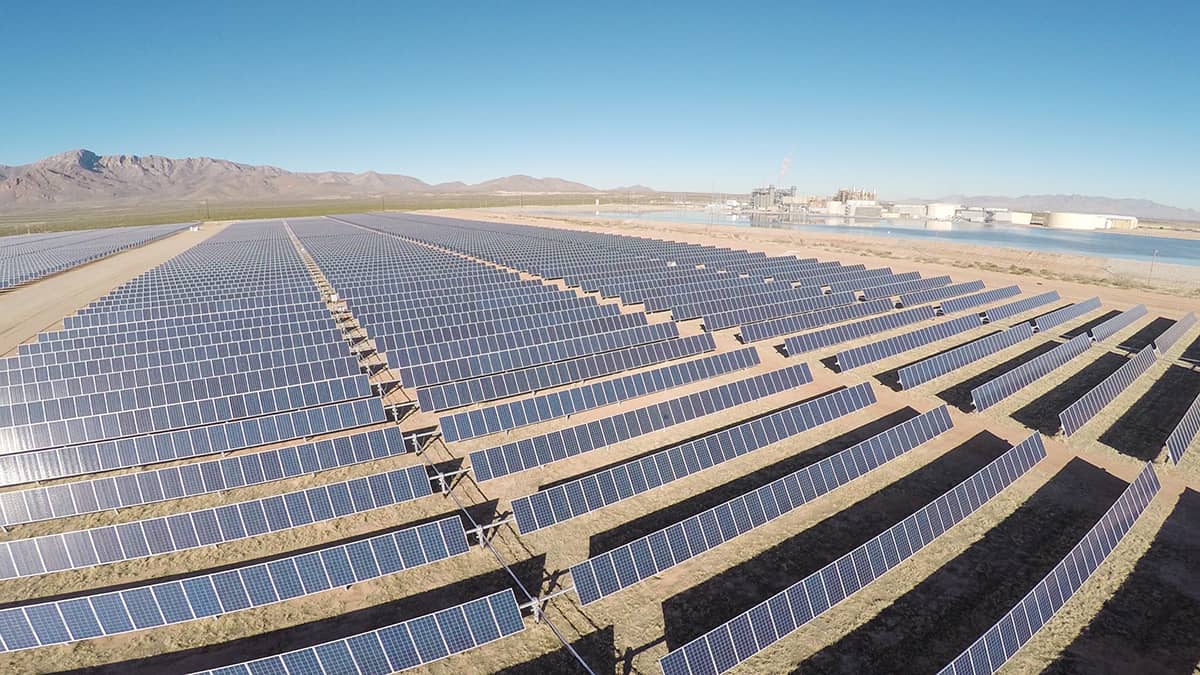 El Paso Electric (EPE), whose service territory includes parts of Texas and New Mexico, is officially coal-free and increasing its focus on cleaner energy resources.
This announcement comes at the end of a 50-year contract and sale of EPE's 7% ownership of the Four Corners Generating Station, a coal power plant located near Farmington, N.M. EPE says it decided that it would not extend its contract due to the uncertainty of significant economic and environmental impacts, and EPE's ownership of Four Corners was sold to a subsidiary of Pinnacle West Capital Corp., which is also the parent company of Arizona Public Service Co., in July.
"This decision was not only the best environmental decision for our community, but it was also beneficial financially for all of our customers," explains EPE CEO Mary Kipp. "El Paso Electric has a firm commitment toward providing safe, reliable, and clean energy that is also cost-effective, and as we analyzed our production of electricity, we began to see the ways in which we could make efficient use of new technologies that would be more economically viable for our operations."
As more utilities try to do their part in reducing harmful emissions, EPE says it believes that the elimination of coal generation for its region was the right step forward.
"I congratulate El Paso Electric on ending its ownership portion of the Four Corners coal power plant in New Mexico," remarks Dr. Al Armendariz, deputy regional director of the Sierra Club's Beyond Coal Campaign. "While there is still more work to be done to fully realize Texas and New Mexico's renewable energy potential, we know that shifting away from carbon-polluting coal plants is one of the most important things we can do to avoid the worst impacts of climate change, which is already making droughts more serious and drying up the Rio Grande."
Since 2009, EPE has been making significant investments in local generating facilities, and in 2014, the company doubled its utility-scale solar portfolio and said the decision would help it move away from coal.
"We remain committed to building a portfolio that includes renewable technologies that complement our local, quick-start, clean-burning natural gas units," states Kipp.
EPE now has a generation mix consisting of nuclear energy from the Palo Verde Nuclear Generating Station, located near Tonopah, Ariz.; local natural gas plants; and a combination of ownership of and power purchase agreements with large-scale solar facilities, including the 10 Newman solar facility in Texas and the 50 MW Macho Springs project, the largest solar facility in New Mexico.
By eliminating coal generation from the company's portfolio and increasing its investment in utility-scale solar, EPE says it is avoiding more than 2 billion pounds of carbon dioxide from the atmosphere every year, which is the equivalent to taking 190,000 cars off the road and planting 20 million trees.
EPE adds that it continues to make advancements in solar energy with a new Community Solar Program launching in 2017, pending Texas regulatory approval. The utility says this program will provide all of EPE's customers in Texas the option to subscribe to solar energy from a local solar facility in east El Paso County.
Notably, EPE and intervening parties, including representatives of the solar industry, recently agreed to terms as part of an overall settlement in the utility's rate case, which was originally filed in August 2015. Under the settlement, EPE withdrew a proposal to impose separate higher rates on homeowners who install rooftop solar, according to the Energy Freedom Coalition of America (EFCA).
"This allows parity of rates so that customers who choose solar for their home are charged the same rate as all other residential customers for the electricity they consume," says Catherine Webking from the EFCA.
Photo courtesy of EPE: At 10 MW, the Newman solar facility is the largest solar project in El Paso, Texas, and it is located on a 100-acre site adjacent to the EPE Newman Power Station.