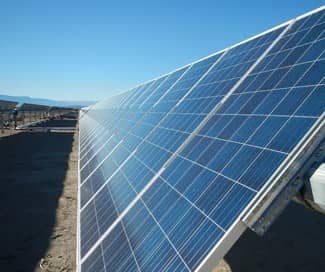 Salt Lake City-based Rocky Mountain Power says its customers are signing up quickly for a new choice to get their power from the sun, as the utility's Subscriber Solar program is 95% sold out after it became available for commercial and industrial customers in May and residential customers in June.
The panels are now installed for the program's 20 MW solar plant, located near Holden, Utah, and the community solar project will be online for customers on Jan. 1, 2017. The program gives customers a choice to use solar if they rent their property, cannot or do not want to install solar, or have roofs that are not suitable for solar panels.
"The Subscriber Solar blocks are selling quicker than anticipated and are only available on a first-come, first-served basis," said Keven Hoopiiaina, manager of the Subscriber Solar program. "Once the program sells out, interested customers can be placed on a waiting list until the next solar plant is built."
According to the utility, program participants subscribe in 200 kWh blocks up to their total average monthly usage. The benefits and costs of the program will vary depending on how much electricity customers use and how many blocks they support.
Rocky Mountain Power adds that high-energy users in the summer may actually pay less for their energy because electricity costs can be higher during that season. Customers can subscribe for up to 20 years so that the "locked-in" generation rate could also save customers money if electricity prices go up in the future.
Large energy users are early adopters of the program, including Salt Lake City Corp., Park City Municipal, Summit County, AMSCO Windows, Deer Valley Resort and Weber State University.
Smaller business owners are also signing up, including Anodizing & Metal, Kiito's Brewery and Over the Counter Café in Salt Lake City; Este Pizzeria in Park City; Mountain Yoga in Sandy; and Kelly Stained Glass in Ogden.