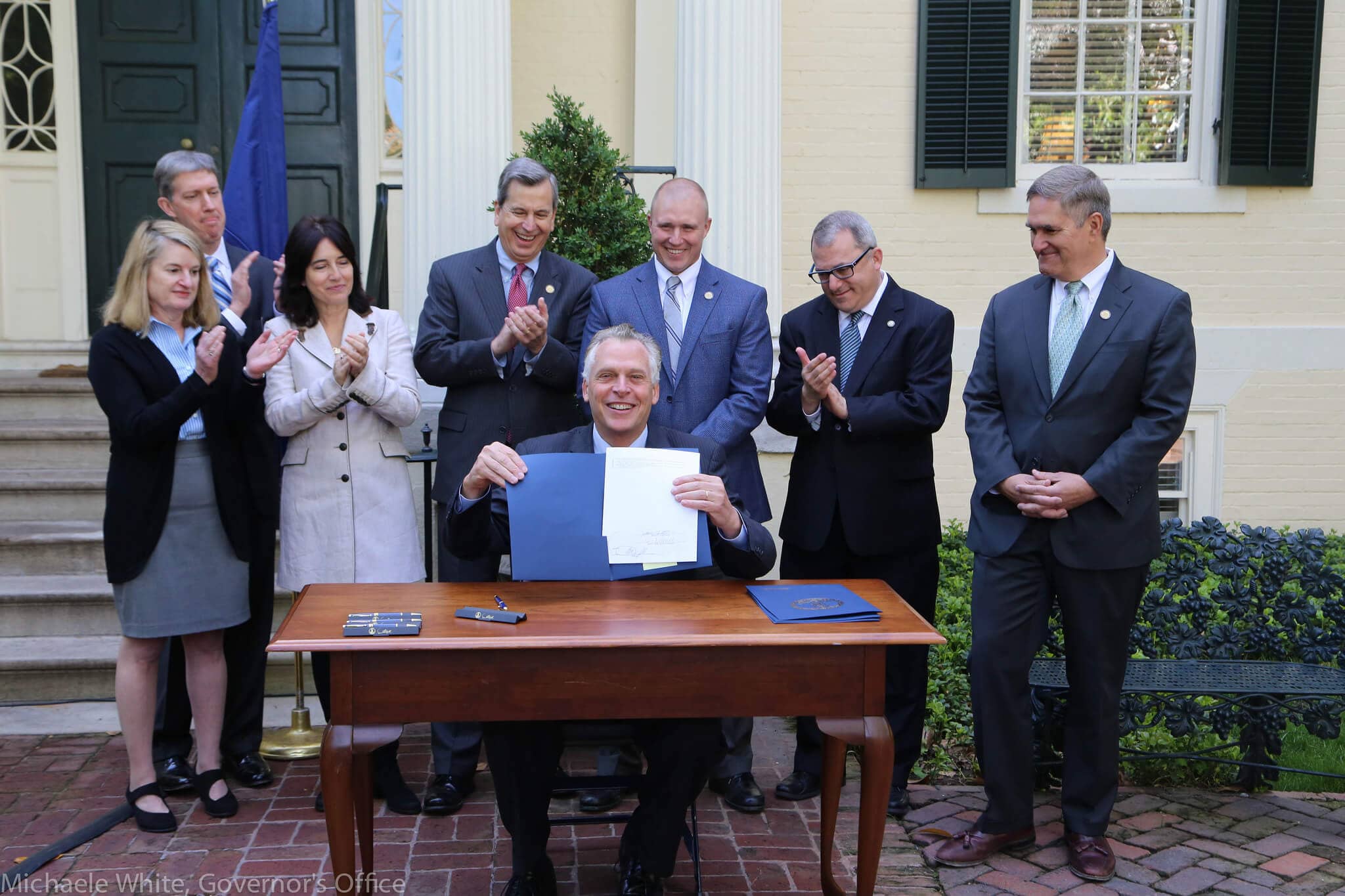 Joined by clean energy industry stakeholders and several bill patrons on Monday at the Executive Mansion, Gov. Terry McAuliffe, D-Va., ceremoniously signed 11 bipartisan bills passed by the state legislature earlier this year that promote the use of solar and other renewable energy options and aim to reduce energy consumption in Virginia.
"Today, I am honored to sign these bills into law, furthering the great work we're doing to support and promote the clean energy sector across the commonwealth," said McAuliffe at the ceremony. "It is clear that Virginia is moving in the right direction, especially with the recent announcement of record growth in our solar industry, but there is still work to do. Together, with our partners in the general assembly and the private sector, I will continue to implement policies that bolster the entire clean energy industry in the commonwealth."
"With revenue in the clean energy sector increasing from $500 million to $2 billion since 2014, the industry is a vital component of the new Virginia economy, creating more jobs and opportunities for citizens across the commonwealth," added Virginia Secretary of Commerce and Trade Todd Haymore.
McAuliffe signed the following bills on Monday:
S.B.1393 – Senator Frank Wagner – Authorizes Community Solar Pilot Programs
S.B.1393 creates a path for the creation of community solar programs in the service territories of Appalachian Power Co. (ApCo), Dominion, and the electric cooperatives. Each utility will develop its own territory-specific program that allows citizens and businesses the ability to "subscribe" to receive electricity generated by a small centrally located solar generation system.
S.B.990 – Senator Roslyn Dance (and Delegate Rip Sullivan) – Energy Efficiency Goal Progress Report Requirement
S.B.990 requires the Virginia Department of Mines, Minerals and Energy to report annually the progress the state is making toward achieving the codified voluntary goal of reducing energy consumption in Virginia by 10% by 2022 from 2007 levels.
S.B.1258 – Senator Adam Ebbin – Changes the Virginia Solar Energy Development Authority to the Virginia Solar Energy and Battery Storage Development Authority
S.B.1258 expands the mission of the Virginia Solar Energy Development Authority to include the promotion and development of battery storage technology. The bill increases the composition of the authority by four seats.
"Energy storage is essential for a clean and sustainable energy future," said Sen. Ebbin. "The inventor who perfects the technology to store the power of the sun and the wind will be our next Bill Gates, and deservedly so."
S.B.1394/H.B.2303 – Senator Frank Wagner and Delegate Randy Minchew – Establishes Small Agricultural Generators Program
S.B.1394 and H.B.2303 are identical bills that create a new framework for the generation of renewable energy at agricultural facilities and how that energy can be sold to utilities. This bill was put forward by the so-called "Rubin Group."
Delegate Minchew said H.B.230 "was the product of a year-long mediation effort between investor-owned utilities, electrical cooperatives, farmers and rural business operators, and renewable energy stakeholders and that will allow agricultural landowners to 'farm the sun,' become energy independent, and help increase renewable energy production throughout our commonwealth."
S.B.1395 – Senator Frank Wagner – Size of Projects Eligible for Permit by Rule
S.B.1395 increases the allowable maximum size of renewable projects to be eligible to be permitted through the state's permit by rule (PBR) process from 100 MW to 125 MW. It also exempts projects that are being built for use by a single customer of a utility from having to apply for and receive a certificate of public convenience and necessity from the State Corporation Commission (SCC). This bill was also put  forward by the Rubin Group.
H.B.1565 – Delegate Michael Webert – Local Option to Create Green Development Zones
H.B.1565 allows localities to establish "green development zones" where businesses can receive special taxing and zoning treatment for buildings and facilities that are determined to be energy efficient or the manufacturing of products that are beneficial to the environment.
"Giving localities the flexibility to enhance their economic growth with green businesses and buildings in green development zones was truly an idea that came from the ground up," explained Delegate Webert. "The Fauquier Economic Development team brought forth the idea, and I am excited that the County of Fauquier is poised to be one of the first counties to take advantage of this legislation. I sincerely appreciate the governor signing this bill, and I look forward to the economic development that this will bring across the commonwealth."
H.B.1712 – Delegate Randy Minchew – Energy Performance Contracting
H.B.1712 allows for the continued use by state agencies and localities of energy performance contracting as a financing tool to reduce energy consumption and increase energy savings through building and facilities improvements.
H.B.1760/S.B.1418 – Delegate Terry Kilgore and Senator Ben Chafin – Pump Storage Electric Generation Facilities in the Public Interest
H.B.1769 and S.B.1418 are identical bills that place pump storage electric generation facilities in the public interest. This makes it easier for new pump storage projects to receive by the SCC.
H.B.2390 – Delegate Terry Kilgore – Power Purchase Pilot Program Creation in Southwest Virginia
H.B.2390 establishes a power purchase agreement pilot program in the service territory of ApCo. Permitted participants in the pilot are private colleges and universities located within the ApCo territory.