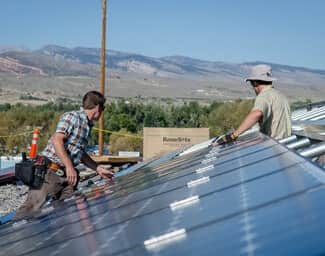 Rocky Mountain Power (RMP) has awarded funding for three community-based solar projects in Wyoming through the utility's Blue Sky program, under which customers volunteer to pay extra on their monthly bills to support the development of renewable energy resources.
According to RMP, a total of $382,000 from Blue Sky customers will be used to build solar projects at Community Entry Services (CES) in Riverton; the Rock Springs-Sweetwater County Airport in Rock Springs; and The Nature Conservancy in Lander.
"Blue Sky customers are making a real difference for organizations serving communities throughout Wyoming," says Keven Hoopiiaina, Blue Sky manager for RMP. "These solar projects will benefit those who fly, those involved in protecting our land, as well as some of the state's most vulnerable citizens."
For the past 42 years, CES has been providing care and services for people with brain injuries and developmental and intellectual disabilities. CES has been awarded $250,291 in Blue Sky funding to build a 79.2 kW rooftop solar array at its Riverton headquarters.
"Currently, few sources of renewable energy are available in Riverton," says Hal Herron, CES board chair. "We are highly visible and well respected in the county and anticipate the Blue Sky project will generate substantial interest and encourage the installation of new commercial and residential systems in our community."
The Rock Springs-Sweetwater County Airport serves several counties in Wyoming and supports nearly 17,000 aircraft operations each year. The airport will receive $94,216 in Blue Sky funds to build a 30 kW solar array on the new General Aviation Terminal and Hangar Facility.
"This solar array will provide our leadership and staff with a sense of pride for years to come," says Devon Brubaker, the airport manager. "This pride will be demonstrated not only to visitors to the airport, but also at all community events held at the airport."
The Nature Conservancy is an international nonprofit organization with more than 1 million members who have been working to conserve lands and waters since 1951. The organization will receive $37,967 to build a 15 kW solar array on the organization's state headquarters in Lander.
"This solar array shows our commitment to renewable energy," says Randy Craft, land conservation specialist. "We will continue to use this project as an example of how a local, rooftop solar installation can reduce the carbon footprint of small businesses."
Since 2006, RMP says Blue Sky customers have voluntarily supported wind power generation in the western U.S., and the program has provided more than $8 million in funding awards to 120 community-based renewable energy projects. RMP says its currently has nearly 50,000 Blue Sky customers throughout Wyoming, Idaho and Utah.