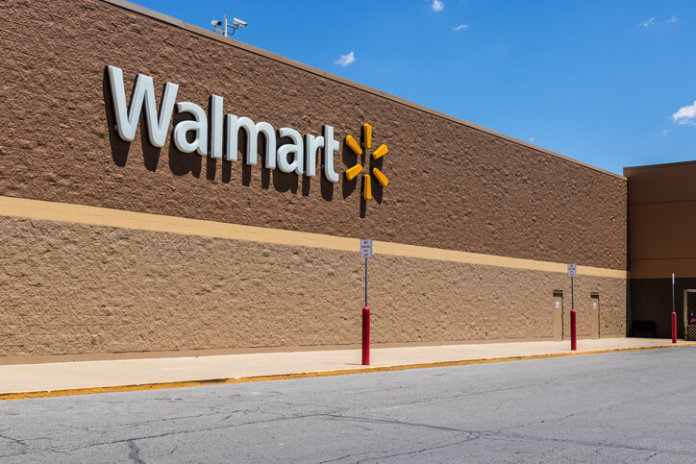 Moving closer to its 2025 goal of being supplied globally with 50% renewable energy, Walmart plans to more than double the amount of renewable energy it uses in the U.S. and increase the percentage of global electricity needs supplied by renewable sources above the current 28%.
The new initiatives include the expansion of on-site solar energy installations, as well as the purchase of wind farms.
Walmart plans to add an additional 130 on-site solar projects, which will bring its total to approximately 500 locations across 22 U.S. states and Puerto Rico – surpassing its 2014 goal to double its on-site solar use by 2020.
The company also recently reached an agreement to acquire renewable energy that will enable the building of two new large-scale wind farms developed by Geronimo Energy and Engie. The 1.26 billion kWh produced annually from this arrangement will be equivalent to the majority of the electricity needed to power Walmart stores, Sam's Clubs and distribution centers across seven Midwestern states.
These new wind energy deals come only weeks after the retailer announced that most of the renewable energy certificates (RECs) generated from a new solar farm in Alabama will supply 150 million kWh each year to the retailer – covering 40% of the company's electricity needs in the Alabama Power service area.
Additionally, earlier this month, Walmart announced that it had collaborated with Google and Georgia Power on an initiative that will result in the retailer's obtaining 182 million kWh of additional renewable energy annually. Once the new Georgia Power arrangement is operational, approximately 34% of Walmart's power demand for its retail locations served by Georgia Power will come from the renewable sources in the program.
Walmart has also announced that suppliers have reported reducing more than 20 million metric tons of greenhouse-gas emissions in the global value chain as part of the company's Project Gigaton initiative. Walmart launched Project Gigaton last April, seeking to work with suppliers to reduce emissions from the company's value chain by a gigaton, or one billion metric tons, by 2030. The emissions-reduction progress was shared at Walmart's annual Sustainability Milestone Summit, during which the expanded commitments on solar and wind power, as well as electric vehicle (EV) charging stations, were discussed.
Walmart plans to more than double its EV charging station sites with the addition of several hundred charging stalls across its operations in 34 states. This expansion will bring Walmart's total number of charging units to well over 1,000 when complete.
"In its first year, Project Gigaton has helped to inspire action that has led to the avoidance of millions of metric tons of greenhouse-gas emissions and has expanded into an international campaign that includes the participation of several hundred suppliers," said Kathleen McLaughlin, senior vice president and chief sustainability officer for Walmart. "The early success of Project Gigaton parallels ongoing progress in our operational efforts that seek to double our U.S. renewable energy use and expand our customer electric vehicle charging hubs to retail outlets across more than 30 states."
With the recent expansion of Project Gigaton in China and the U.K., more than 400 suppliers with operations in more than 30 countries have joined the program. Suppliers can commit to reductions in any of six pillars that include energy, agriculture, waste, packaging, deforestation and product use. Approximately 85% of the Project Gigaton emissions reductions reported by suppliers have focused their efforts on the energy and product use pillars, with projects devoted to areas such as renewable energy investments and the development of more efficient products.
A highlight from the summit was a commitment made by Project Gigaton participant Procter & Gamble (P&G) to cut 50 million metric tons of emissions from its operations and value chain by 2030. P&G will achieve this through inviting customers to join the Tide #QuickColdPledge – switching to quick and cold laundry cycles – as well as committing to source 100% renewable electricity in its North American operations by 2020.